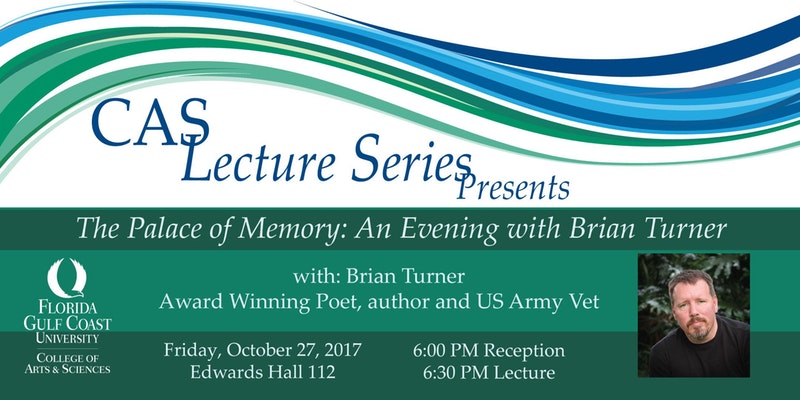 CAS LECTURE SERIES: "THE PALACE OF MEMORY: AN EVENING WITH BRIAN TURNER" (OCT. 27)
Event to be held at the following time, date, and location:
Friday, October 27, 2017 from 6:00 PM to 9:00 PM (EDT)
Edwards Hall, Room 112
10501 FGCU Boulevard South
Fort Myers, FL 33965

Writer and US Army veteran Brian Turner reads from his work and discusses some of the complications involved in crafting art from memory.
Brian Turner is a poet and memoirist who served seven years in the US Army. He is the author of two poetry collections, Phantom Noise and Here, Bullet, which won the 2005 Beatrice Hawley Award, the New York Times "Editor's Choice" selection, the 2006 PEN Center USA "Best in the West" award, the 2007 Poets Prize, and others. Turner's work has been published in National Geographic, The New York Times, Poetry Daily, Harper's Magazine, and other fine journals. Turner has been awarded a United States Artists Fellowship, an NEA Fellowship, a Lannan Foundation Fellowship, and more. His memoir, My Life as a Foreign Country, has been called, "achingly, disturbingly, shockingly beautiful."
Please click here for more information or contact us at caslectures@fgcu.edu.
Share this event on Facebook and Twitter We hope you can make it!Cheers,College of Arts and Sciences at Florida Gulf Coast University