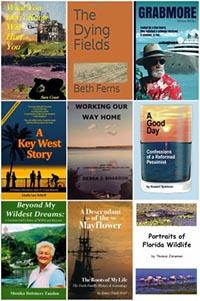 Copperfish Books: Local Authors in the Spotlight
Thursday, March 22 from 6 to 7 p.m.
103 W. Marion Avenue, Punta Gorda
Come hear local authors introduce us to their books – speed-dating style! This is a great opportunity to meet some of our local writing talent.
Sara Coast, What You Don't Know Will Hurt You
Beth Ferns, The Dying Fields
Glenn Miller, Grabmore
Linda Schell, A Key West Story
Debbie Sharron, Indecision (Book 1),
Choices (Book 2), and Working Our Way Home (Book 3)
Howard Spielman, A Good Day: Confessions of a Reformed Pessimist
Monika Tandon, Beyond My Wildest Dreams: A German Girl's Story of WWII and Beyond
Janice Tuttle-Friel, A Descendant Of The Mayflower The Roots Of My Life: The Tuttle Family History and Genealogy
Tom Zinneman, Portraits of Florida Wildlife
Cost: Free but reservations are required.
Info: www.CopperfishBooks.com or (941) 205-2560.