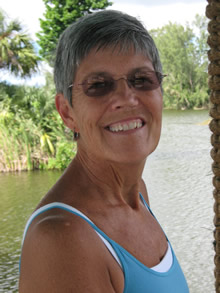 I am a trail lover since childhood when riding my horse on the well-developed trails of the Watchung Reservation in NJ was a treat. Later when there was no longer a steed at hand, my own feet served me well. Then I learned about the benefits of exercise and endorphins and just kept walking.
My work life has centered on land use having been a legal secretary specializing in real estate and land use board administrator and now a Realtor.
My first book, You Can Get There from Here – Hiking Hunterdon County Trails, in collaboration with Sue Dziamara grew from our walking and exploring in Hunterdon County NJ and wishing to share the wealth. A sequel trail book, Hiking NJ Trails Hunterdon County and Beyond –You Can Get There from Here Too, broadens the quest.
As a transplant to sunny Florida, I added kayaking to my outdoor interests.  I have a new adventure book sharing the fun of Lee and Collier County trails and waterways — 10 Adventures and More in Lee and Collier Counties – Florida on Land and Water.
In the end, walking and paddling are my most fun land and water pursuits yet and writing about them a bonus.
Enjoy my award-winning memoir with kitchen tips and tricks and 50 recipes, Recipes and Life – Life is Too Short to be Stuck in the Kitchen.
Visit my website at: aliceoldford.com.