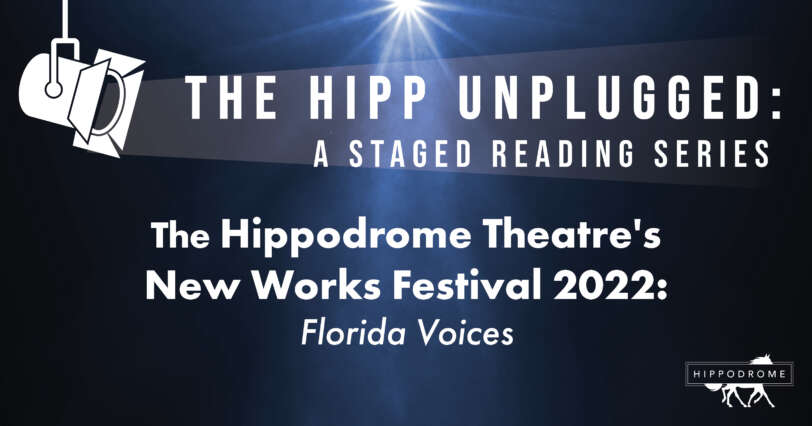 The Hippodrome Theatre supports established as well as new and emerging talent and is accepting submissions for its 2022 playwright festival!
Submissions must be received by Dec 3rd, 2021 at 12 p.m.
See submission guidelines for more information.
Winners will be announced Jan 10th, 2022!
Development, rehearsals, and performances will run from Feb 13 – 19, 2022.
Submission Guidelines
✦ Email submissions of complete scripts must be RECEIVED by noon on December 3rd, 2021.
✦ Open to playwrights of all ages, but must reside in FL.
✦ Scripts must be original, unproduced and unpublished plays. Plays which have had readings or workshops are eligible.
✦ Plays must be 15 – 30 minutes in length and have no more than 5 characters.
✦ Writers may submit up to two plays.
✦ Please use standard script format ( Writopia Script Formatting )
What should I submit?
✦ A completed entry form per play that can be downloaded from TheHipp.org/New-Works-Festival-2022/
✦ A short bio of the playwright
✦ One clean copy of your script
✦ A one paragraph synopsis of the play and a cast list with brief character descriptions
✦ Questions? ✦
Go to our website or email hippplayfest@gmail.com
Email submissions to:
✦ Hippplayfest@gmail.com ✦
Develop your work and join our community of artists!
✦ The Hippodrome Theatre