June 2022
Speaker: Susan Grunin
Topic: Hybrid Publishing
June 18, 2022, 10 a.m. to Noon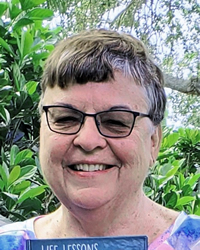 The presentation will look at Using a Hybrid Publisher including:
Defining a Hybrid Publishing Company
The Three Models of Hybrid Publishers
Key to Understanding the Differences between a Hybrid Publisher and a Vanity Press
Ways to Tell is a Hybrid Publisher is Legit
8 Signs Your Publisher is a Scam
The Guidelines for Recognizing a Legit Hybrid Publisher from the Independent Book Publishers Association (2018)
What type of Author is Most Likely to Benefit from a Hybrid Publisher
Deciding Whether to Use a Hybrid Publisher – It Isn't for Everyone!
Susan's sample Author Page. Make your own Author Page and bring to the next meeting.
Susan's PowerPoint presentation
Dr. Susan K. Grunin is a retired college professor, who taught for over 2 decades for the University of Virginia (UVA) and a number of other colleges and universities. Dr. Grunin also authored a text book for the University of Virginia Graduate School. She is a retired Executive who has been an Executive Coach, a CEO, a Human Capital Consultant and who also worked for the Federal Government, where she served in various positions for the Federal Courts, including over 20 years as a Federal Law Enforcement Officer.
Susan is currently a member of the Gulf Coast Writers Association of SW Florida and is writing a series of children's books, Life Lessons and Tales of Little MisFit.