We regret the last minute change of venue for the Writing Contest Awards program. The situation was beyond our control. Fortunately, Pastor R.C. Fleeman of Peace Community Church offered the space for our program.
The readings by the winners were excellent, as were the judges' descriptions of the winning works. The luncheon was a happy ending to an outstanding event.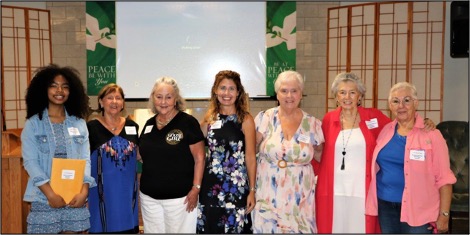 UPCOMING MEETINGS
Our next meeting is Saturday, September 16 at 10:00 a.m. at our usual venue, Word of Life Church in Fort Myers. This meeting is our opportunity to show off our own work and get to know each other's talents! Select to attend by Zoom.
So, if you've recently been published in a book or a literary magazine, or if you've been awarded a prize for your writing, please bring a portion of that work to read to fellow GCWA members and guests. If you have an unpublished piece you're really proud of, please bring it and step up! Reads are limited to 5 minutes, and the first 20 to sign up get a place at the podium. Contact Mary Charles (mary@marycharles.com) to put your name in the hat.
We're happy to announce that Arielle Haughee, publisher of Orange Blossom Books and author of children's literature, will be back with us in February 2024 to speak about publishing. She'll tailor her presentation to our members' preference: would you like to learn about traditional publishing or self-publishing? Please send your vote to mary@marycharles.com by September 30 to give Arielle time to focus her content.
BOOK LAUNCH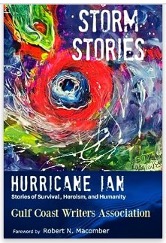 Sold out: Our September 9 event at the Alliance for the Arts to launch our Storm Stories-Hurricane Ian anthology is currently sold out. But you can still see the event. The event will be live-streamed by the Facebook and Instagram. Even if you don't have a seat in the auditorium, you can still meet the book's contributing authors from 6 to 7 p.m. at the Alliance before the start of the event.
You can also purchase the book during the pre-show at the Alliance. Contributing authors will pay our cost when they purchase directly from GCWA. Paid-up members may purchase Storm Stories directly from GCWA at 30% off Amazon prices. And if you can't attend the September 9 launch, come to the September 16 member meeting to purchase your copies.
You can also purchase the book from Amazon in e-book, trade paperback and hard cover formats at

retail price. On August 21, Amazon named Storm Stories-Hurricane Ian the #1 New Release for Memoirs in the southern states. Click on this link for the book at Amazon.com: Storm Stories-Hurricane Ian. And here is the QR code:
OTHER BUSINESS
Many people have fallen behind on their dues. We understand this could possibly be due to the confusion and loss during last year's devastations and disasters and that some may not even have realizes it. David Aiken, our membership chair, has updated the membership list. Please be prepared to update your status if, by chance, you are not current on your dues see David at the next meeting or renew online via PayPal.
Brian Devitt and Jeff Bogart are working on important upgrades and safeguards to our website. When these updates are completed, only current members will be permitted to keep their books on our website and to access all the important information our website provides.
A YEAR OF RENEWAL
Finally, have you noticed that our organization is increasingly vibrant these days? The pandemic is behind us. Our membership is growing. Our programming is too. So if you haven't been to a meeting recently, come check us out.
Come early and get ready to make new friends! The meeting begins at 10:00 a.m., live and by Zoom. The location:
Word of Life Church
6111 South Pointe Blvd.
Fort Myers, FL 33900
We are looking forward to seeing all of you.