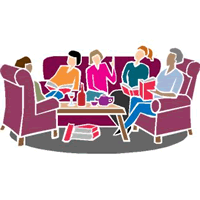 Critique & Reading Group News
Interested in joining a new critique or reading group? Looking for new members for your critique group? Contact Bob McCarthy, our critique group coordiator.
Playwriters/Screenwriters group meets twice monthly in Cape Coral. New writers welcome. Contact Patty Duncan.

Friends of the Fort Myers Library is sponsoring a Writers Critique Group every Monday from 10:30AM to 12:30PM, at the downtown library, South Building, 1651 Lee St, Fort Myers, FL.

Port Charlotte – Interested in a book club who read their own works or favorite works of others? They are looking for a few writers to join them. Contact Alan Hodgson.

Children's book authors critique group forming for Lee and Collier counties first Wed. of each month. First meeting at South County Library, Estero, FL, April 2, 2014, 9-11AM. Contact Lisa Batch.

The Southwest Florida Branch of National League of American Pen Women would like to invite published writers to consider joining. Contact Lorraine Walker Williams for more details.

Kid's Stuff, a critique group for writers of children's books, meets the second Saturday of the month, 10AM – Noon, at Edison College, Punta Gorda, FL, Room O-116.

Hunter Leake is interested in either joining or starting a critique group for creative non-fiction writing. email: hleake3@gmail.com

CC Writers Critique Group in Cape Coral is looking for two or three new members. Contact Patty Westbrook, patriciawestbrook@comcast.net.

Jeannie Greider jagfiction@aol.com is interested in members who write mystery/suspense and fiction. She wants to meet either Wednesday at 10:00 or Saturday at 11:00.

Bob Martin mrobert168@aol.com is part time and he has an interesting idea. He would like a group of memoir writers who are also part time. They would correspond by Skype when they are away and get together when they are here in Fort Myers.

Tom Miller author of "Irish Short Stories" started a new writer critique group for, poetry, short stories, letters to editors, etc. It will be held on Friday's from 10am to 12pm at Congregational Church:  8210 College, Fort Myers, FL. Contact Tom Miller is you are interested.

Carl Megill is looking for people from the Charlotte Harbor/Punta Gorda area who are interested in a Comedy Writers and Humorists Wanted group.

Anyone interested in joining a discussion group on the English novelist Barbara Pym can contact David Hauenstein for details.
Critique Critters
Meets first Thursday every month at Keiser University from 1 – 3 p.m. Cheryl Abney Mary Guay Connie Hope Denise McCoy Isabella Shamambo Back to top
Hurricanes critique group:
Tom Nelson Becky Elam Denise Holbrook Judy Loose Barbara Burnett Julie Ward The Hurricane group meets the second Monday (more or less) of each month starting at 2:00 pm, located at the Fairfield Inn. Not looking for members at this time. Back to top
GCWA Readers Group
The GCWA Twentieth Century Classics Reading Group meets the first Monday of February, April, June, August, October and December. We read and discuss our impressions of the writer's work. It might include the author's style, sentence structure, narrative process, techniques of storytelling and many other aspects of the work. We have one opening for 2013 and welcome members to contact Richard Georgian at rgeorgian@embarqmail.com if you are interested in joining this reading group. We meet at 6:30 in the lounge of the Marriott, Fairfield Inn across from Barnes and Noble on U.S. 41.
Members: Martha Jeffers Richard Georgian Mary Beth Lundgren Fanci Shipp Lew Knickerbocker Barbara Burnett John Hodes Open
The Peace River Center for Writers at Edison State College
invites both new and experienced writers to attend Kids Stuff, a monthly critique group focusing on writing for children. This group meets the 2nd Saturday of each month from 10 a.m. to 12 noon at Edison's Punta Gorda campus, in room SA-116. Please email prcw@edison.edu or call (941) 637-3514 if you'd like more information.
The Word Clinic critique group:
Jeannie Greider's critique group, The Word Clinic, is looking for one or two more serious writers in fiction/suspense/mystery/action adventure. We meet every other Saturday at 11:00 a.m. to about 1:00-1:30 p.m. Contact Jeannie Greider – jagfiction@aol.com.