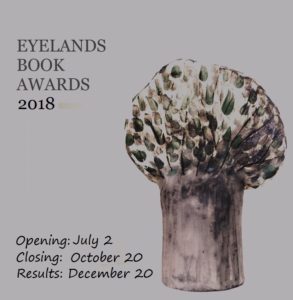 International book awards for published and unpublished books
Grand prize (published books): Five-day holiday in Athens plus a special handmade ceramic designed especially for Eyelands Book Awards and publication (excerpts) online on our website. Grand prize (unpublished books): Publication from Strange Days Books
Six more prizes one for each category of every section also win a a special handmade ceramic designed especially for Eyelands Book Awards
Certification document for every prize.
Final results are to be announced on December 20th 2018.
The award will be given in a special ceremony in Athens
Award Ceremony: 5th of May, 2019
Place: Polis Art café, Athens, Greece
Judges: Andriana Minou (poetry), Gregory Papadoyiannis (novels, novellas), Antonis Tsirikoudis (short stories) / Entry fee: $30
Closing: Tuesday, October 20, 2018 at midnight PST.
Submit your book or manuscript online or via snail mail with a $30.00 entry fee
Eligible submissions include: poetry, novellas, short story collections, novels.
Multiple submissions allowed (with a separate fee for each submission).
Simultaneous submissions allowed, but please notify us if full manuscript is accepted elsewhere. Finalists for every category to be announced on November, 20, 2018
Final results are to be announced on December, 20, 2018.
There are no restrictions regarding nationality
Participants must be 18 years old otherwise we need parents' consent to accept the submission.
Manuscripts must be written in English.
There is no restriction about the form or style of writing. We prefer the pages to be numbered. Files should be uploaded as an MS Word document or PDF. Fill the entry form, copy and paste it in the body of your email.
Submit your manuscript to:
eyelandsmag@gmail.com  [or]  strangedaysbooks@gmail.com
or send your book by post to: Chimarras 6, 74100, Rethymno, Crete, Greece