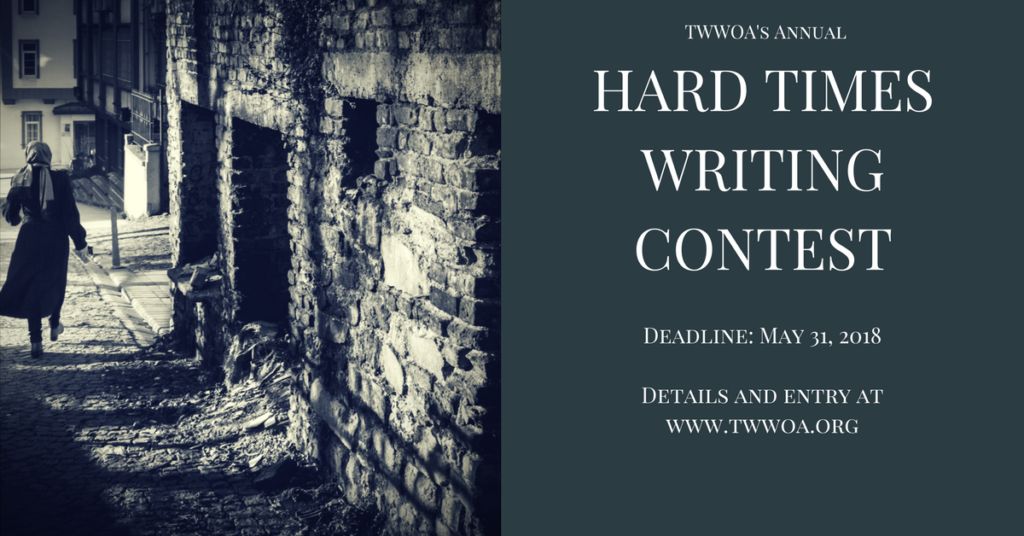 Hard Times Writing Contest
Deadline: May 31, 2018
The Writers Workshop of Asheville, NC
Write about a difficult experience in your life, how you overcame this obstacle, and how you were changed by it. Winning stories will be chosen for originality and creative writing style. Stories should not exceed 5,000 words (double-spaced, 12 point font).
Multiple entries are accepted. Your name, address, email and title of work should appear on a separate cover sheet. The entry fee is $25 ($20 for Workshop members) for up to three entries.
All contest entries will be returned with judges' comments. Authors retain all rights. All contests have a $25 entry fee ($20 for members). Fee payable online through PayPal, or by check on money order.
Scroll down for submission instructions.
Awards for all contests:
1st: Choice of a 2 night stay at our Mountain Muse B&B, 3 free workshops, or 50 pages (or 10 poems) line-edited and revised by our editorial staff
2nd: Choice of a 1 night stay at our B&B, 2 free workshops, or 35 pages (or 8 poems) line-edited
3rd: Choice of 1 free workshop, or 25 pages (or 5 poems) line-edited
+ Up to 10 Honorable Mentions