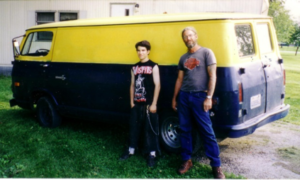 It was time to go back home. Following rainbows to the once familiar towns of Kankakee and Bradley, Illinois wasn't the same. The old days remembered were gone. Perhaps that old saying's true after all – "You can't go home again."
So Michael, the perennial hippie, and his 17-year-old son, Travis, made a hard decision. Could they make the 2000-mile journey in the old 1969 Chevy van, which held all their worldly goods? Not only clothes and mementoes Michael couldn't part with, but the cherished '63 Harley? Mom and Dad would help out with some extra cash, but could the two of them actually make this trip?
It's one thing to travel alone, as he'd done so many times before, but now his boy was along and it wasn't the late 70s or 80s anymore. Yet, they had to leave. There was nothing for them there; no work, except odd jobs. And so they left one afternoon when the wind blew softly and the sun shown down on them as if to say, "Be on your way. Bon voyage."
The old buggy cruised along for several hundred miles. Oh, not perfect, but good enough. His childhood friends said it wouldn't go a hundred miles, but they were wrong.
Goodwill Industries in Tacoma originally owned that old van and Michael was the second owner. Except for having to paint over the words Goodwill, it was a good buy for three hundred bucks two years before.
It made the trip to Kankakee and then over to the next town of Bradley and was now carrying them back home to Tacoma. They stopped to eat at fast food places along the way and even spent one night in a motel, not wanting to spend any more than absolutely necessary. Otherwise, they slept in the van.
"It's good being out in the fresh air with clouds that paint pictures, if you think hard enough, and the wind makes your hair cover your eyes a little," said Michael. "People are mostly friendly, too." And Travis nodded.
He used to travel with a scruffy black dog, Jake, years back, but now he was with his son. Maybe the old dog made some treat him better than they normally would have on those wayward treks over the road when he was young. He didn't know for sure. But now Jake was gone.
Oh, they had to stop from time to time to let the engine cool off and add some oil, but that was to be expected. He'd phoned Mom and Dad collect from various places, so they wouldn't worry too much about him and Travis. Michael thought he knew what Moms and Dads felt because he was a parent now, too.
The inevitable did happen. The old van broke down as they rolled into a whistle stop of a place called Murdo in South Dakota: population 679. Lucky for them they weren't out in the wilderness. They could see a small motel in the distance and hiked there after locking the van.
Michael told the motel manager, a fellow named Patrick, his tale of woe; how they had to get the van running again and didn't have much money left for the long trip ahead and maybe he had some work they could do. "I'm a roofer," Michael said to Patrick, "and a darned good one, too."
Patrick listened hard to all Michael had to say. "Tell you what," he sighed, "there's a guy down the road who needs somebody to finish a job on his RV roof. Seems the fellow he had doing the work just walked out on him yesterday, no warning, just walked out. Go on down there and see what he says."
Michael did just that and, lo and behold, the man hired him on the spot, a total stranger, but then if you looked into Michael's earnest green eyes, you would understand why. He and Travis started the very next morning real early and worked all day. The rickety old van was examined by the man at a near-by garage and it was determined it needed a new engine.
"It will take some doing for one to be found for such an old model in this out-of-the-way place," the mechanic said. Michael worried how much it would cost, if one actually could be found. The search was on. In the meantime, Patrick worked out a deal for them to stay half-price at the motel.
It would take several days to finish the RV job, enough time to fix the van, if they  were lucky. The first day, the RV owner even gave them lunch money. Another man staying at the motel overheard them talking to Patrick and took them to dinner. "People ARE good, there's no denying it," Michael said to Travis in a quiet voice.
Patrick had some wood out back he intended to use for a utility shed someday. "If you can put it together on the week end," Patrick said, "I might be able to work out a few days no rent." Michael jumped at the chance. With Travis' help, they did a fine job, too.
A few days later, while at the local Laundromat, he and Travis struck up a conversation with the manager. They told him they had no transportation. The fellow offered to take them to a junkyard that might have what they needed. The three of them went over there a couple of hours later, when the Laundromat was closed, and it was like a miracle! Sitting on the shelf was the exact size engine they needed and for only $175.00.
It would take a day or so to get it installed, however, and Patrick was going away. They had to move out of the motel. Patrick told them to walk uptown a few blocks and see the lady who ran the only other motel in town.
"I'll call her first," he said, "sorta set things up for you. Maybe she can find it in her heart to help out." And then Michael and Travis met Ella. She needed bushes trimmed and some other odd jobs done around the place, which was in pretty sad shape. They could stay there half-price, a real bargain.
"You won't believe it, Mom," Michael said long distance, "the best people ever live here in Murdo, South Dakota. I even met a guy who has been here four years from Alaska. He said he broke down and never left. The people made him feel like this was his home."
On Day Eleven in this town of Good Samaritans, the old van finally ran, almost like a top. Michael and Travis packed their gear and said their good-byes to Patrick, Ella and the other assorted friends they came to know in not quite two weeks. It was a bittersweet ending to a piece of life they would never forget.
Driving slowly out of Murdo, Michael glanced at his son sitting beside him and, with a faraway look in his green eyes that glistened just a little, he murmured, "Remember this place, Trav. This is what the world can be like. Never give up or lose faith. Like my mom always said, 'Look for the good in people and you will find it.'"