Speaker: Stephen J. McGuire
Topic: Challenges of Self-publishing

January 15, 2022, 10 a.m. to Noon
Zoom and in-person meeting.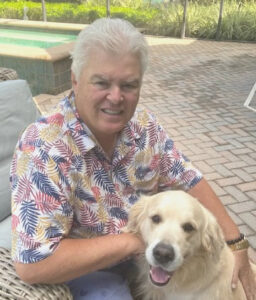 Location: Map
Word of Life Church
6111 South Pointe Blvd.
Fort Myers, FL 33919
Stephen J. McGuire, retired Chief Judge of the Federal Trade Commission (FTC), wrote Prior Restraint, a political thriller.
Steve will discuss how he wrote the book, challenges of self-publishing, and his inside perspective about DC which influenced the storyline. Steve will also provide tips on how self-publishers can market their books.
Prior Restraint--America's most famous news anchor is brutally murdered by terrorists on Pennsylvania Avenue in Washington, DC and the entire media establishment is paralyzed by the fear of who may be next. Seemingly overnight, a pernicious wave of self-censorship grips the airways and no one dares to further criticize religious fanaticism. When a leading newspaper columnist and her editor are soon thereafter kidnapped and murdered in New York, the media hysteria reaches a frenzy.
When Chief Judge of FTC,  Steve presided over well-publicized, antitrust enforcement proceedings. He was honored by President George W. Bush for his service to the nation's judiciary and received the FTC's Distinguished Service Award. Now a full-time resident of Naples, Steve has been coming to the area since the mid-1980s. He has traveled extensively to over 65 countries, including memorable trips to Africa, India, Vietnam and Japan. He and his wife Doris taught English to high school students in the Fujian Province of China in July 2019. His letter on the culture and lifestyle of Havana, Cuba was published by Cigar Aficionado magazine. In addition to writing, he enjoys classic cars, fine wine, and sharing life with his wife Doris, their golden retriever, Henry, and their mini goldendoodle, Alftie.