Finding Zemi's Song (Zemi Learns Borikenaíki)
by Ell Maldonado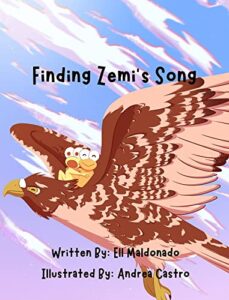 Zemi is a coquí frog living in Puerto Rico. One night, when he goes to sing, he can't! His song is nowhere to be found! With the help of his friend Alida, Zemi travels to El Yunque to find Atabey- the Taíno cemí matriarch and mother of all living things. Will she be able to help Zemi regain his ability to sing?
This book also contains Taíno Borikenaiki dialogue and a glossary to help readers learn this wonderful Indigenous language along the way.