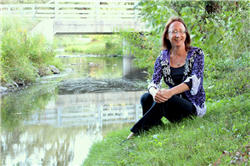 Mary Clista Dahl discovered her passion for pouring out her heart and soul on paper at age four when she journaled about true-life preschool drama in a miniature diary. Her desire to promote joy, love and compassion through the written word, combined with her perpetual wish to help others, have become the foundation for her life's work, Capture Life Writing. She has been published in Reader's Digest, Wall Street Journal College Journal, National Business Employment Weekly, and The Buffalo News. Mary, an avid nature advocate, is also a frequent contributor to the online journal, Naturewriting.com.
Her first book, Giddy as Charged, The Happy Manual, is available now at Amazon.com. Her one and only work of fiction produced the self-proclaimed worst romance novel ever written, the never published, "From the Moment You Said Good Morning."
Mary earned her B.S. degree in Cultural Studies with a communication concentration from SUNY Empire State College and a certificate in Public Relations and Advertising from the University at Buffalo, where she has spent over thirty years on an enthusiastic journey assisting students on their academic and career paths.
She is a past winner of the UB Literary Guild Writing Contest and the most gratifying award ever, a lifelong listener of, "Have Mary do it, she likes to write."
Visit her website at: http://capturelifewriting.com