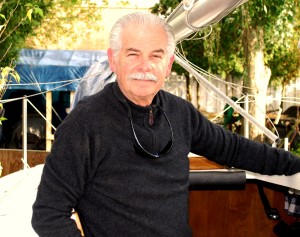 Mike Fuller Author
After writing professional documents for many years, Mike has finally devoted time to his true passion, writing fiction where the story and characters come alive in the reader's mind. While his days were filled with authoring hundreds of detailed crime reports, arrest affidavits, search warrants and grand jury presentments, he took some of his own time and devoured books by the dozens. Reading not only was a rewarding diversion, it provided him with the added education he needed to function at a high level in his profession.
This has led to the creation of Mike's crime/suspense/detective novels SINK RATE and the follow up, ROPE BREAK, the first two in the Sam Deland Crime Novel series. Both are expected to be published in 2015 by: http://www.roguephoenixpress.com/ More recently, CAPTAIN'S CROSS, a historical land and sea adventure novel set in colonial America has also been accepted for publication.
Mike writes with the real life experience that many years of law enforcement shaped and influenced. The stories may be fiction but are based on how things happen in the real world. His books are honest and captivating novels written with a unique voice that will both chill and charm.
Mike is a veteran police detective. He did it all from rookie patrolman to Senior Special Agent. His life has been enriched by a wonderful marriage, parenting, work, flying, sailing and good books. Mike is a lifelong outdoorsman, an experienced tactical firearms instructor, champion sailplane pilot and the captain of his own sailboat. All of these skills have made his novels vivid, exciting and real. Now retired after a career with three law enforcement agencies, Mike enjoys winters writing in Naples, Florida and summers sailing, writing and researching the next novel at his rural Pennsylvania home.
Web/Blog: http://mikefullerauthor.com
On facebook: http://www.facebook.com/mikefullerauthor
On Twitter: @mikefullerwrite