Dirty Waters: Confessions of Chicago's Last Harbor Boss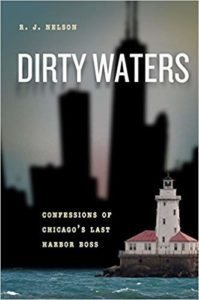 In 1987, the city of Chicago hired a former radical college chaplain to clean up rampant corruption on the waterfront. R. J. Nelson thought he was used to the darker side of the law—he had been followed by federal agents and wiretapped due to his antiwar stances in the sixties—but nothing could prepare him for the wretched bog that constituted the world of a Harbor Boss.
Director of Harbors and Marine Services was a position so mired in corruption that its previous four directors ended up in federal prison. Nelson inherited angry constituents, prying journalists, shell-shocked employees, and a tobacco-stained office still bearing a busted door that had been smashed in by the FBI. Undeterred, Nelson made it his personal mission to become a "pneumacrat," a public servant who, for the common good, always follows the spirit—if not always the letter—of the law.
Dirty Waters is a wry, no-holds-barred memoir of Nelson's time controlling some of the city's most beautiful spots while facing some of its ugliest traditions. A guide like no other, Nelson takes us through Chicago's beloved "blue spaces" and deep into the city's political morass. He reveals the different moralities underlining three mayoral administrations, from Harold Washington to Richard M. Daley, and navigates us through the gritty mechanisms of the Chicago machine. He also deciphers the sometimes insular world of boaters and their fraught relationship with their land-based neighbors.
Ultimately, Dirty Waters is a tale of morality, of what it takes to be a force for good in the world and what struggles come from trying to stay ethically afloat in a sea of corruption.