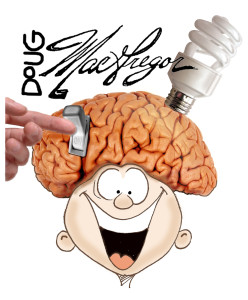 Doug MacGregor is a native of Binghamton, N.Y. and a graduate of Syracuse University. He has lived in Southwest Florida since 1988. He was the full-time editorial cartoonist for The News-Press in Fort Myers for twenty-three years tackling local, state and national issues on the editorial pages. You can still spot his cartoon work every Sunday in the News-Press.
Doug also visits schools, libraries, art centers and civic organizations sharing his love for drawing and lecturing on creativity. He has also written and illustrated seven children's books including his most recent, Morgan McKinney's Bigger-Than-Life Bedtime Story. His other books include, Turtellini, The Turbo-Charged Turtle, and Rad Hair Day, both self-published in 2011.  In 2009 he published, Get Creative Turn On The Bright Side Of Your Brain; a book to help folks of all ages become more creative in everyday life.
Doug is also a local musician and plays harmonica in various blues bands in the area. He has won numerous state and national awards for his cartoon work and is a member of the Association of American Editorial Cartoonists and the Society of Children's Book Writer's and Illustrators. You can see Doug's work and hear his music at http://dougcreates.com
Currently, he is enjoying his position as coordinator for the Arts in Healthcare program, which brings bring art and music to patients and families within the Lee Memorial Health System in Southwest Florida.