September 2022
Speaker: Lucy Tobias
Topic: Capturing Undiscovered Florida in Words and Photos
September 17, 2022, 10 a.m. to Noon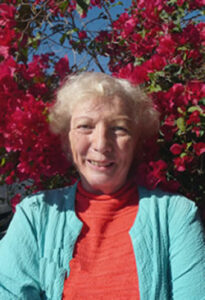 Location: Map

Word of Life Church
6111 South Pointe Blvd.
Fort Myers, FL 33919

Note: Google maps or your GPS may direct you to the back of the building. The entrance to the parking lot is on South Point Blvd. between Quigley Eye Specialists and Buckets Restaurant.
Lucy Tobias will give a PowerPoint presentation of undiscovered Florida (translation — drop dead beautiful photos); she presents ways to combine photos, video, and audio to your stories.  How much of Florida still remains a mystery to some of us?
Lucy will bring magic and excitement to the podium.  One additional benefit you will obtain from this presentation is a short exercise on writing the "hook"– the all-important first sentence of any book!  In journalism, this valuable tool is called a "grabber."
Lucy Tobias is an award-winning author and blogger who looks at life and finds humor, beauty, and reasons for hope.
Tobias is a former newspaper reporter for the New York Times Regional Group.  She writes narrative non-fiction – taking readers on a guided tour to undiscovered parts of Florida and beyond with her adventures augmented with photographs and illustrations.
Her book, The Zen of Florida Gardening, won first place in outdoor books in the excellence in crafts awards (2021) for the Florida Outdoor Writers Association.
Wednesday Notes, published in 2022, is her newest book.  A five-star review on Amazon said in part: "Wednesday Notes invites the reader to reflect on the moments of goodness and grace that happen in life. The author's insights and wonderful sense of humor shine through. Written during the pandemic, there is a tenderness and authenticity that shines through. Lucy Tobias is a faithful, thoughtful, fun-loving friend in the journey of life."
Tobias is a member of the North American Travel Journalists Association, the Florida Outdoor Writers Association, and ABC Books Inc.
She lives in Sarasota, Florida, sharing space with one dog, two cats, and an ever-expanding group of goldfish.  Her weekly blog, Wednesday Notes (free), explores the profoundness of everyday life, and she hosts a podcast called Pivot Points that interviews people about turning points in their lives.
Her website is: www.LucyTobias.com