Hayton hails from England and worked as a probation officer in her hometown of Middlesbrough for 12 years before immigrating to the United States in 1991 with her husband Peter. They live in Naples, Florida, willing slaves to four bossy cats.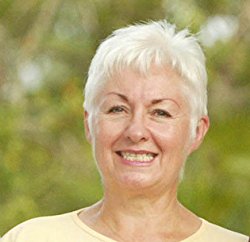 Hayton never wanted to be a writer, but after listening to her father's war stories and reading his tattered wartime diaries, she felt compelled to write his WWII memoir A Corporal's War. Several magazine articles followed.
While researching her father's memoir, she stumbled upon Ursula Graham Bower's story and knew instantly that her next book would be about this amazing woman. The book is Naga Queen which is based on 8 years in Ursula Graham Bower's life during WWII.
To celebrate surviving cancer twice, Hayton traveled to Myanmar in 2006. A travelogue of her journey is available as a Kindle book. ​
Chasing Brenda and If You Love me, Kill Me are two novellas published 2012 and 2013.
Her latest book is her memoir Still Pedaling.