More members, more projects, more outstanding speakers: The year 2023 has so far been a year of rebuilding and renewed activity for Gulf Coast Writers. September was no exception, and October promises more of the same.
Book Launch: Five Stars!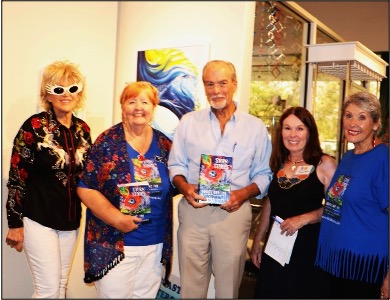 Last month saw the start of deliveries of Storm Stories-Hurricane Ian: Stories of Survival, Heroism and Humanity. Our new book has received five stars from Amazon, based on 22 ratings. It even at one point hit "best-seller" status
On Sept. 9 we held our book launch for Storm Stories at the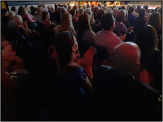 for the Arts in Fort Myers. The ev ent was sold out, and we sold out of all the books we had on hand as w ell. The evening began with an informal reception for the book's 79 writers with family, friends and the general public, followed by readings by the Tamiami Tale Tellers of short selections from each of the 83 stories in the book. Emcee for the event was NBC2 TV's Sean Martinelli
Storm Stories continues to be the subject of much media attention. Stories about it have run in the Fort Myers News-Press, Cape Coral Breeze, Pine Island Eagle, and Naples Daily
News, to name just a few. NBC2 TV carried a feature, and ABC7 TV aired a six-minute interview a bout the book with Vice President Mary Charles.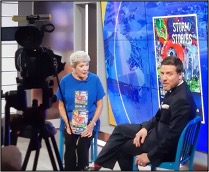 You can, incidentally, buy the hard-cover, soft-cover and e-editions of the book on Amazon.com at bit.ly/stormstories-Ian The book is on sale at local retail outlets, including the Alliance for the Arts gift shop and Leoma Lovegrove's Art Gallery. You can find it at Copperfish in Punta Gorda and Annette's Book Nook on Fort Myers Beach, as well. Paid-up members may purchase Storm Stories directly from GCWA at 30% off Amazon prices. Looking for holiday gifts to give? Storm Stories is just the thing
Hats off to our hardworking Anthology Project committee for an outstanding job!
Our Members Read From Their Works
Our September meeting focused on readings by members from their works. There was a wide range of writing from poetry to science fiction and nonfiction. You can see them in action below thanks to photos taken by Jeff Bogart.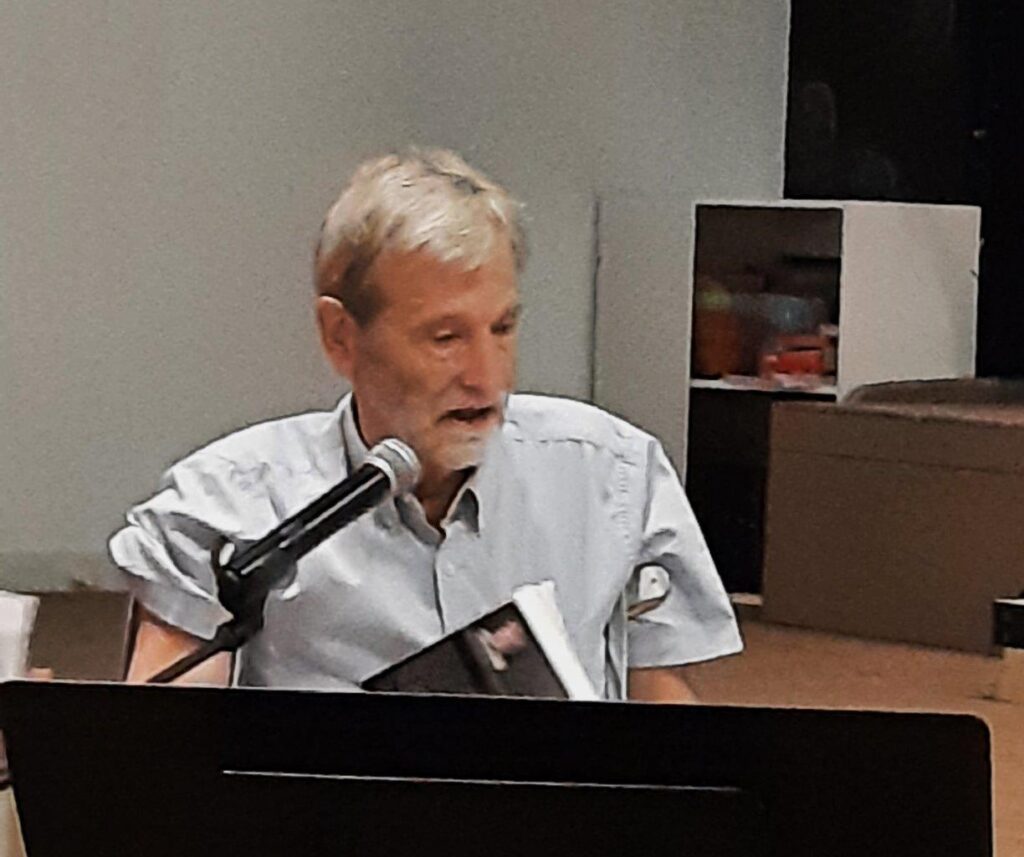 Looking Ahead
October's meeting on the 21st features veteran editor and GCWA member Claudia Volkman. She'll cover the importance of writers' having an editor for their work. Volkman has more than thirty-five years of experience in line editing and typesetting. As owner of Creative Editorial Solutions in North Fort Myers, she assists publishers, authors, entrepreneurs, and speakers with their editorial needs
"I'll describe the different types of editing," says Volkman, adding, "It's important to determine the type of editing YOU need!"
In November, Brian Devitt will talk using visual aids about Creating and Improving Your Web Site. Brian is a computer scientist, an information technology consultant and a college instructor. As a member of GCWA's Executive Committee, he is helping us upgrade our organization's website. His discussion should be very interesting.
In December: Keeping with tradition, there will be no meeting in December.
In January 2024: We'll ring in the New Year with a presenter discussing her publishing company and the publishing industry in general. More to come!
In February: Our speaker will be Arielle Haughee, a seven-time winner of Florida Writers Association's prestigious Royal Palm Literary Awards (RPLA). An author, editor, speaker, and publisher, Arielle will focus on self-publishing. This is a return visit from Arielle. In March 2023 she provided a three-step way to make your writing as efficient as possible. What will she offer in February? You will have to wait and see.
Renewing Our Website: Take the Survey
Did you get it? Did you respond? We recently emailed all our members a 10-question survey to find what they like, dislike and would like to see incorporated into the new design for our website– www.gulfwriters.org .
We expect that some sections will be combined with others, that new sections will be added and that there will be a new look and feel. All to better serve the needs of you, our members.
So, if you haven't already done so, please take the time to respond with your comments and recommendations. Your opinion matters. If you've deleted or misplaced the email, you can find it at this link: NEW GCWA WEBSITE SURVEY .
Personnel
Webmaster. Who will be our new webmaster? We are still looking. We need someone who can manage the site, add and remove material, and interact with our members about it. The new webmaster will join our Executive Committee. Will it be someone you know? Will it be you? Let us hear from you.
Treasurer: We also have begun looking for a new Treasurer to take on the role that Mike Cole has so admirably filled. This is a volunteer position, and the treasurer is also an officer on the executive committee. A financial background is helpful but not necessary. Good attention to detail and a commitment to maintaining accurate financial records are a must.
Understudies: We are in addition looking for deputies to act as seconds to every officer on the Executive Committee. They'll enable us to expand our activities. They'll be understudies to Committee members currently handling Membership, Communications, Special Projects, Programming, Finance, and Social Media. They'll not only become knowledgeable about our organization, they'll be able to step in to cover for existing Executive Committee members should the need arise. See Jeff Bogart for additional information. He's reachable at jdbogart1@gmail.com.
New Logo: Just in case you haven't noticed, your organization has a new logo and letterhead.

It was designed by Brian Devitt, who patiently encouraged and accepted suggestions for change. We hope you like it.
This Saturday
If you haven't already done so, add this month's meeting date to your calendar: Saturday, October 21. The meeting begins at 10:00 a.m. and runs to noon. Arrive early, catch up with longtime friends . . . and get ready to make new ones!
If you can't come in person, you can still join us via Zoom by clicking on https://bit.ly/3LWoPuo. Fill out the registration form. Then click at the bottom of the form to receive an email with the meeting's access code and password.
Here's the location to attend in person:
Word of Life church
6111 South Pointe Blvd.
Fort Myers, FL 33900