LONG LAKE by John Todd (1845) published by Purple Mountain Press, 1997.
John Todd 1800-1873.
Reading about where you are by Gary McLouth
The Adirondack mountains of New York State were measured in comparison in size to Massachusetts by early explorers, and more recently, to the area of Connecticut and Rhode Island, or over 6 million acres, or just one big ancient mountain range replete with lakes and forests called the largest State Park east of the Mississippi, and designated in the New York State Constitution as "Forever Wild."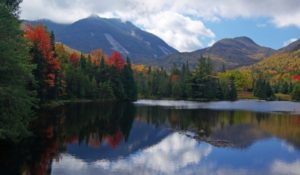 Having found home in the central Adirondacks for most of my life, I can attest to the abiding sense of awe I feel just by being here. The vistas of mountains from lake shores strike me speechless while reminding me of the indubitable dominance of nature. As I look out over the water at the forested mountain ridges, I feel big and small at once. I  imagine my presence here as something grand and significant through communing with nature's overwhelming presence, and the belief that I am an integral and organic element of the world.
A passage from what is considered by Adirondack historians as "the first book to deal with an Adirondack topic" says it from the perspective of a man who penetrated this wilderness some 170 years ago. What he has written doesn't seem much out of date to me.
When you are thus in the midst of a great forest, knowing that you must go fifty or sixty miles ere you reach a human being – knowing that here man has not left the prints of his puny foot, — that God himself reigns here in solitude, you have a subdued feeling of dependence and insignificance that is new and peculiar. You feel that you might fall like one of the leaves that is falling around you, and the forest would stand, the mountains cast their deep shadows and the lake mirror back the bright heavens, and the world move on just as if you had never been.
A writer, to whom I have already made allusion, thinks the wilderness is, of all others, the best pace in which to renew health of body and vigor of mind. Before any one lays his plans to penetrate it far, let him make up his mind to endure fatigue beyond what he ever before endured, to sleep where-ever night finds him, and to come as near starving as need be. It will do well enough to talk about living on venison or moose, but it is always better to hunt the bear before you sell his oil. It is obviously the best place in the world to recruit the body – for you must work as hard as possible, and change all you habits of diet, & c. Then you are completely shut out from the world, and know nothing of what is passing without. So you may cease to give yourself any trouble about it, and you thus leave the world behind, and the mind is wholly unbent – an advantage which it can obtain nowhere else. All habits of mind and body are changed, and all are recruited…
                                                                                end