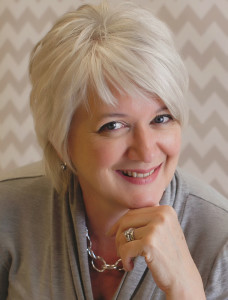 From the first time she was handed a blank piece of paper and a crayon, Ronnie Walter knew what she wanted to do for a living–draw pictures and tell stories! After a rambling education at art school, a state university and a stint in England, she finally figured out how to do just that! She has been freelancing for over twenty years with her words and illustrations licensed on fabric, home accessories, gift items and more greeting cards than she can count.
In License to Draw–How I Built a FUN career in Art Licensing–and you can too! Ronnie writes about the business of how Art Licensing works. It's chock full of personal experiences, tons of solid information and an arm around the shoulder message of "you can do this!".
Ronnie's cozy mystery, Gruesome Greetings- A Georgie Hardtman Mystery is a fun romp through the halls of an art and design trade show! Georgie, a greeting card illustrator, had high expectations for an exciting trip but she never expected to be in the middle of a murder case!
And if Ronnie wasn't busy enough, she has taken the adult coloring world by storm with the publication of four new coloring books! The Coloring Cafe™ series is a challenging yet fun collection of illustrations, sayings and patterns to color and paint–just right for stress relief and just plain fun!
Ronnie and husband Jim Marcotte live in Cape Coral with their shelter dog, Larry.
Visit her website at: http://ronniewalter.com