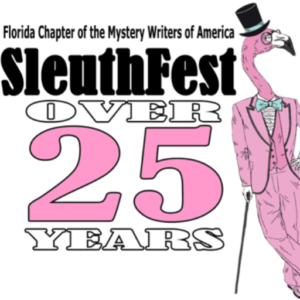 The 2022 SleuthFest mystery writing conference is sponsored by The Florida Chapter of the Mystery Writers of America and is back in person this year from July 7-10.
SleuthFest 2022 registration is open now.
Guest of Honor: MWA Grand Master Jeffery Deaver
Award-winning writing and forensic faculty: Tracy Clark, Tori Eldridge, & Royce Wilson
Agent and editor strategy and pitch sessions
Freddie's Noir at the Bar on Thursday
Guest of Honor Gala on Friday
Fla-Mingle Cocktail Party on Saturday
Sharks vs Flamingos on Sunday
More than 30 workshops, presentations and panels from Friday to Sunday.