That's My Story, And I'm Still Movin' on.: Fennimore…As I Remember, Volume VI
(My Stories) (Volume 6)
by Tom Nelson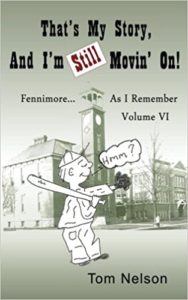 It wasn't Tom Nelson's intention to write what has turned into an ongoing historical reminisce of small town living and growing up in the 20th Century. An assignment fourteen years ago to write weekly of his memories for the Fennimore Times newspaper in his home town has resulted in well over 700 columns and now the publication of this sixth volume. He will forever be indebted to the many friends, and acquaintances for their faithful support over these years as he recalls the character and characters in these books and column; Fennimore As I Remember.