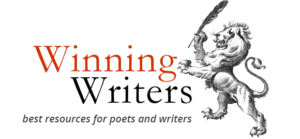 Tom Howard/Margaret Reid Poetry Contest
Closing date: September 30
Entry fee: $20 for up to 3 poems
Prizes: Tom Howard Prize – $3,000 for a poem in any style or genre;
Margaret Reid Prize – $3,000 for a poem that rhymes or has a traditional style.
The two top winners also receive a two-year gift certificate from our co-sponsor, Duotrope. Ten $200 Honorable Mentions in any style. All winning poems published on
winningwriters.com
.
Line count: Up to 250 lines per poem
Winning Writers
 has been providing free writers' resources for over twenty years. This year, our contests will award $36,250 to writers. We are partnered with the Alliance of Independent Authors (ALLi), a designation for "contests which are organized for the benefit of the author rather than the profit of the organizer".