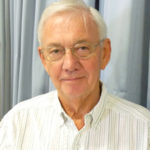 Dear Members:
For the past many months your president's letter has been penned by Richard Georgian. As your newly elected president, I am recognizing what a tough act Richard is to follow after his three years of service to GCWA. Thank you once again, Richard for a job so well done. I will do my best to communicate with you this coming year and attempt to reach the high bar Richard has set in the past.
The first of June brings on the hurricane season and possibly a slow down in our organization's attendance with many members leaving for cooler climates. However, our May attendance reached sixty-seven as we heard Alison Chabonais, National Editor of Awakening provide us with tips on freelance writing. Seven first time guests were in attendance with four joining that day.
The June meeting is scheduled for Saturday the 18th beginning at 10am. There has been a change in the location. [map] While still at Zion Church, 7401 Winkler Drive, we will be meeting in Room 108, (shown as room 10 on the map) located on the east side of the main church, rather than the usual fellowship hall. Please follow the signs that morning. (We previously met in room 108 last October.)
Our program June 18th will feature Sandra Yehati, Marketing Director of Whitehall Printing in Naples. She will be reviewing the steps necessary to produce a published book from a finished manuscript; discussing PDFS, Format, Layout, Artwork and Numbering along with many other aspects of preparing your book for publication.
Web Editor, Judy Loose, reminds us that short stories and poems are still needed for the GCWA web page. Please consider submitting; I guarantee that any judging by your peers will be of a kindly nature.
See you on the 18th.
Tom Nelson