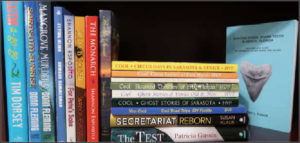 The 8th annual Venice Book Fair and Writers Festival takes place March 16 in Blalock Park from 9 a.m. – 3 p.m.
Tents will be assigned as they are reserved. The first deadline for tents is Nov.1, 2018.
Each 10-foot x 10-foot tent may be used by one or two authors, at $150. After Feb. 1, 2019 the cost goes to $175, if tents are still available. Between Nov. 1 and Feb. 1, tents may be reserved for $150 if any are left. Most authors will want to reserve a tent by Nov. 1 to ensure they have a place at the book fair. Each tent will include an 8-foot table and two folding chairs. Authors must pro- vide their own table covers and booth identification signs. As in the past, we plan to have the students available to help get books to and from tents.
The Writers Festival takes place Friday, March 15 at the new Venice Public Library, 300 S. Nokomis Ave. Proceeds from the fair go to Venice Heritage Inc., the 501(C )3 fundraising organization that supports the extension of the Venice Museum and Archives and the restoration of the oldest existing house in Venice, the Lord-Higel family pioneer home.
The book fair has an improved website. Please check out www.venicebookfair.com