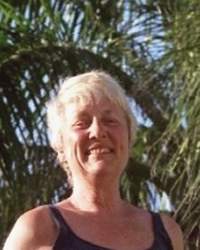 I started making up stories to tell whoever would listen, virtually when I started talking. I started writing the stories down when I was nine or ten. Yet, somehow as an adult, for about thirty years, the only writing I did was business and technical writing. I spent those years working for corporations in the High-Tech industry, specializing in implementing company-wide Information Systems. At age fifty, I started writing for pleasure, again — first poetry, then short stories, and finally novels.
My first published novel, The Janus Code, written under the pen name J.C. Ferguson (maiden name), was awarded the FAPA President's Gold Medal. It is an international thriller about trying to stop a very deadly computer virus. I published my second novel in 2015 — Mangrove Madness, a humorous mystery set in Florida. It is about a newly licensed female PI trying to track down first one, then two…then seven missing people.
Next, I'm working on a follow up novel to Mangrove Madness.
I am currently self-employed — designing websites, educating users on computers, creating covers and formatting printed books and eBooks for self-published authors.
Visit my author website at:
Blog: onreadingandwriting.com
More websites:
looselinks.com
mangrovemadness.com
januscode.com
judyloose.com