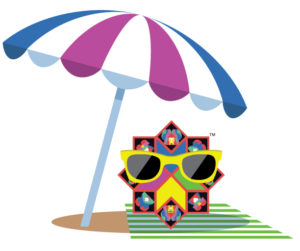 Ladies get those pens and laptops ready. We are starting our next writing contest. Below is a brief description. When you are ready to get started click here – https://www.kaleidoscopewojo.com/take
Submission Deadline: 08/16/19
Announcement Date: 09/02/19
Topic: Summer Vacation
Summer vacation. Two words that can conger all manner of emotions. If you did or didn't have the opportunity to write about your summer vacation in elementary school, here's another chance.
When we're asked how our summer vacation was, doesn't a part of us want to be able to say it was epic beyond all imagining! Yet isn't reality often much different? I can recall a trip to Canada that had been planned for months when I was young. The entire family had the pamphlet for the resort seared into our brains. The blue lake and cute clapboard cottages, an array of rowboats waiting to be launched and majestic pictures of sunsets that looked like Maxfield Parrish paintings. You know where this is headed. The cottage leaked and smelled of mold and mouse droppings, or what we imagined mouse droppings to smell like, and there was one rowboat that had difficulty keeping water out. Yet, it turned into one of the best vacations we ever had as a family in that it pulled us all together in ways it was impossible to anticipate.
So, we want to hear about the good, bad, epic, uplifting, soul stretching and transformational summer vacations you have experienced. Don't we all have at least one that stood out from the rest? It may have occurred when we were growing up, or as adults with our families, with friends, strangers we have just met whatever the circumstances were. Let's hear about them!