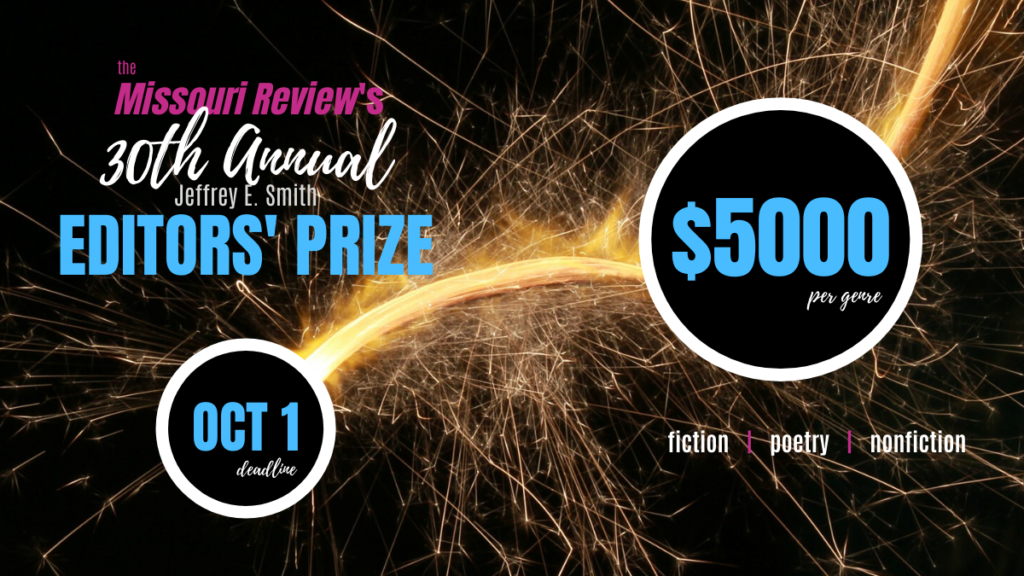 $5,000 Fiction | $5,000 Nonfiction | $5,000 Poetry 
**CONTEST OPEN**
DEADLINE: October 1, 2020
Winners will be announced in early 2021.
The Missouri Review has opened our 30th annual Jeffrey E. Smith Editors' Prize, which awards $5000 each to winners in fiction, poetry, and nonfiction. We'll be open for submissions until October 1st, and welcome writers of all levels to submit.
In addition to $5000, winners in each genre will have their winning piece published in our spring issue, and will be honored with a reading in spring of 2021. All submissions are considered for publication and runners-up and finalists for the prize are often published in the Missouri Review or, in the case of poetry, as part of our Poem of the Week online feature.
We pride ourselves on focusing on the quality of the writing first and foremost—our allegiance is to finding and supporting strong work. Past winners have ranged from emerging writers to ones with established writing careers. We are particularly excited to let the writers at Gulf Coast Writers Association know about this opportunity, in hopes that we may see some of their work.
We do accept submissions online or by mail (postmark deadline is October 1) and the winners will be announced in January of 2021.
For the second year, we are offering two options for entry fees. $25 is our standard entry fee, which includes a 1-year digital subscription to TMR and Strange Encounters: Stories from the Missouri Review. $30 is our All Access option, which includes the same goodies as the standard option, plus full access to our ten-year archive, complete with print and audio versions of TMR.
You can find out more about the contest through our website: https://www.missourireview.com/contests/jeffrey-e-smith-editors-prize/.