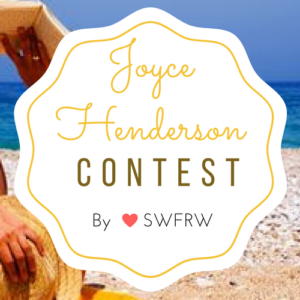 For writers of romance, or other genre fiction with romantic elements (mystery, suspense, women's fiction…)
THE JOYCE HENDERSON CONTEST 2018
Sponsored by Southwest Florida Romance Writers
Entry deadline October 1
CATEGORIES:
Contemporary (including Women's Fiction)
Historical
Paranormal/Science Fiction/Fantasy
Young Adult
Romantic Suspense
ELIGIBILITY:
Unpublished authors
Traditional or self-published authors who have not published in the category they're entering within the past 5 years
Entries must be the author's original work that has not been published or contracted to be published.
SUBMISSIONS:
The first 20 pages of an unpublished manuscript featuring romantic elements.
FEE: $30
Visit https://swfrw.org/joyce-henderson-contest-rules for more information.
More questions? Contact coordinator.jh@gmail.com.