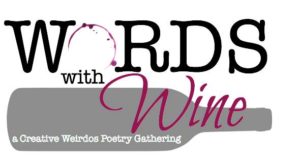 Recently I (Jamilla D. Brooks) partnered with Patti Brassard Jefferson to host WORDS with Wine: A Creative Weirdos Poetry Gathering at P.J. Boox. Our first event is Wednesday, June 27 at 6 pm – 9 pm.  Cover is $5 and if you are sharing your WORDS then your cover is waived! Check us out on Eventbrite and Facebook: https://wordswithwinepoetry.eventbrite.com/.
About:
We are a TRIBE of creatives, so if you have been seeking a place to express yourself… look no further… you have found it!
WORDS with Wine encourages you to: Be Yourself! Express Yourself! Use your WORDS wisely!