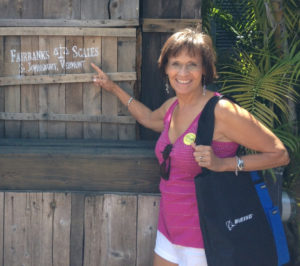 Sharmin Fairbanks McKenny is a transplant from the Midwest where she received her BSN and Master's degree in Nursing. She was a pioneer in civilian flight nursing, transporting critical patients by helicopter and fixed wing. She earned her private pilot's license as a teenager and actually soloed before she had a driver's license.
Sharmin is a farmer's daughter and nature lover. She mounts orchids in the trees on the golf course at her Florida community. Playing golf three times a week, Sharmin enjoys the orchids, sunshine, and fresh air. She also paints using acrylics on canvas, usually birds, landscapes, and people.
As her first novel, the first in a series, Sharmin is writing an historical fiction about the original settlers of the Fairbanks family from 1600-1791. The Fairbanks family came to New England in 1633, thirteen years after the Pilgrims. In 1637, they built the oldest frame house still standing in North America. As active early American settlers, the Fairbanks founded the towns they settled, Dedham and Lancaster, Massachusetts. This first book will take the family through the Revolutionary War in Massachusetts. Later books in the series will follow their move through Vermont, Ohio, the Civil War, and Kansas.
Writing about the Fairbanks' family history has opened other writing opportunities for Sharmin. She has articles in the Fairbanks Family of America Newsletter, the GCWA annual writing contest 2018, and the National Society of Daughter's of the American Revolution, American Heritage Contest, "Honoring our Patriots While Preserving our Family Stories." Her enthusiasm and passion for her work makes her a perfect fit for co-chairperson of the membership committee of the 2018 Gulf Coast Writer's Association.
Follow Sharmin at:
http://sharminfairbanksmckenny.com/
https://www.facebook.com/FairbanksHistory/