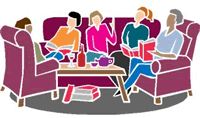 A critique group can give support and constructive feedback for your writing. It can also keep you writing when you know someone is going to review your work on a certain date. GCWA will try to match you to a group with similar interests. Below is a list of current groups connected with GCWA and some links to online resources.
Here are Critque Guidelines written for a previous critique group associated with GCWA. You can change them to fit your group, your rules, your timeline etc.
Interested in joining a new critique or reading group?
Looking for new members for your critique group?
Contact website@gulfwriters.org.
GCWA Affiliated Critique Groups
A critique group for creative non-fiction writing is open for a new member.
email: Hunter Leake hleake3@gmail.com or Bob McCarthy theb2bwriter@gmail.com.
CC Writers Critique Group in Cape Coral is looking for two or three new members. Contact Patty Westbrook: patriciawestbrook@comcast.net.
Hurricanes critique group: Genre is fiction and nonfiction—no poetry or script-writing. Meets monthly at the Fairfield Inn and not looking for members at this time.
Jeannie Greider's critique group, The Word Clinic, is looking for one or two more serious writers in fiction/suspense/mystery/action adventure. Contact Jeannie Greider – jagfiction@aol.com.
Writers Helping Writers (Writers Read) — Punta Gorda critique and support group
Naples Writers Forum – Off of 41 near 7-11 and miniature golf course; Turn south on Palm St.; Drive to the end and turn left; the clubhouse will be immediately on your right; the address is: 350 Marlin Dr., Naples, FL
Saturdays from 10 a.m. to noon; Off through the month of August – 9-12 copies of 2 pages of prose or two poems – We critique each other's work.
MI Writers Critique Group – Marco Island Library – 210 S. Heathwood Dr. – 10 a.m. to noon – The second and fourth Friday of the month
3-6 copies of 4 pages of prose or 1-2 poems