THE BEST OF LUCK
STORYTELLERS BRING STORIES OF LUCK TO THE ALLIANCE FOR THE ARTS
By Mary Lou Williams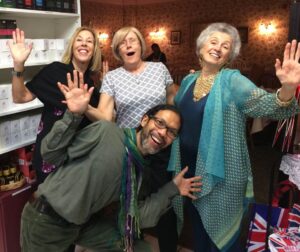 The storytelling series at the Alliance for the Arts began the 2023 season this January with stories of "New Beginnings."  The second program in the series was "Stories of Love" for the month of February and Valentine's Day.  The third and last program for this season will be performed on Friday, March 3rd, 7 pm to 9 pm.  The Storytellers of the Round Table and the Elephant Showcase Storytellers will take the stage to tell "Stories of Luck," both good and bad.
The storytellers will be Lisa Leonhardt, Mary Lou Williams, Pamela Minton, and Dr. Joel Ying.  Lisa will tell a personal story called "Sisterly Love" and a folk tale called "The Three Sisters."  Besides being about sisters, these stories are about luck, lucky sisters, and unlucky sisters.  Mary Lou will tell a literary story called "The Chaser" and a fractured folk tale called "The Rumpelstiltskin Rap." In each of these stories there is a character who looks suspiciously like a leprechaun.  Pamela will tell two personal stories, "The Fishing Trip" and "The Worst Job I Ever Had," in each of which the worst of luck turned out to be the best of luck.  Dr. Joel will tell an Irish folk tale called "The Man with No Luck" and a Greek myth called "Pandora's Box."  In these stories, luck is a matter of perception.
Experience the power of the spoken word.  Captivating, spellbinding, and entertaining.  The stories will be followed by a Talk Back, which is a Q&A session with the audience.  Meet the storytellers.  Discover the stories behind the stories.  The Talk Back is an innovation that proved to be popular last season and continues to be popular this season, too.
The Alliance for the Arts is located at 10091 McGregor Boulevard in Fort Myers.  The ticket price is $18 for members and $20 for non-members.  To purchase tickets visit www.artinlee.org or call 239-939-2787.