President's Letter for February 2023
If you found our Gulf Coast Writers Association (GCWA) January meeting explosive, be assured that February's assembly will be a continuation of the saga between David and Goliath.
Mike continues his fight with both Truist Bank and Suncoast Credit Union, both of whom deny any responsibility for the bank theft.  Since our last meeting, Mike has made eight additional calls to the banks and to the Lee County Sheriff's Office (LCSO) investigator assigned to the case.  LCSO confirmed that the originating bank was Suncoast Credit Union; they issued a new subpoena for additional documents, including info about the account the money was transferred to at Suncoast.  LCSO expects to hear from Suncoast Credit Union in three to four weeks from the time the second subpoena was issued.
On Tuesday, January 1, 2023, Mike and I spent an hour speaking to someone at Suncoast Credit Union in Cape Coral.  Again, we were told, according to their records, there is no proof of the fraudulent transactions.
Mike sent a registered letter, on January 31, 2023, to the Chairman and Chief Executive Officer of Truist Bank, William H. Rogers Jr.
Any additional info will be available at the February meeting, including the dirty tricks they pulled recently.  Someone is determined to make this go away, but it isn't on our end!
In the meantime, most of you have platforms on which you can share your frustration with the banks and their determination to absolve themselves of this theft.  Choose your words wisely.  Do not lie or exaggerate.  You can pass along the word about the large number of complaints submitted to Truist Bank (865 as of last month) as not yet resolved.
At our meeting on February 18, 2023, we will share any updates with you.
Our Guest Speaker, Molly Jebber of Springboro, said she wanted to be a writer since age 12.  She never told anyone about it. "I had no background in writing," Jebber said. "Then several years ago, my husband, Ed, asked me to quit my demanding job and move to Florida."
Ed was supportive and encouraged her.  "I had no background in writing," Jebber said.  I knew nothing whatsoever about fiction, which is what I hoped to write."
In Florida, Jebber met an editor and asked him what he thought of her aspirations.  He was brutally honest, saying that, frankly, it would be too hard.  "He told me I had to have very thick skin and be used to rejection and a lot of criticism, and who wants that?"
Jebber knew she needed to educate herself on the craft, so she researched online and signed up for writer's conferences.  "At my first conference, I signed up for a 10-minute agent meeting, not realizing the purpose," she said.
That first meeting, with agent Mary Sue Seymour, changed Jebber's life and trajectory forever.  "After she stopped laughing, Mary Sue explained the process," Jebber said.
"I hadn't written the first word of my first book, so I didn't have anything for her to critique.  I was so embarrassed."
But Seymour, the owner and founder of the Seymour Agency, based in New York, saw something special in Jebber and called her back.  Seymour then blocked another 20 minutes on her schedule.
"I had these little prayer cards and she asked if I would mind giving her one," Jebber said. "Then she looked at me and said, 'I need you.'"
Seymour explained that Amish romance was starting to sell because of an increased interest in the Amish way of life among the general public.
"I have always loved the Amish, Jebber said, but stories about them don't always show who they really are."
Jebber returned to a few of her favorite Amish communities in Ohio to do some research.  She wanted her book to be historical but wasn't sure if the Amish would speak to her.  They not only answered her questions but gave her additional insight.
After that, the first three chapters of her first book, "Change of Heart," seemed to flow quickly.  Jebber needed an agent, but the authors she knew and even her family and friends told her getting a big agent in New York was nearly impossible.  Jebber sent her first manuscript to her friend Mary Sue, who critiqued it and sent it back.
While out shopping, Jebber got the call she never thought she would.  Kensington Publishing Corp., in New York City, wanted to not only publish "Change of Heart," but they also wanted a three book series and offered her a contract.
Her first book was published in June of 2015, followed up by a book nearly every year since.  Sadly, Jebber's friend and mentor, Mary Sue Seymour, passed away in 2016, shortly after her second book, "Grace's Forgiveness," was published.  She is currently under contract with Kensington through 2023 when she will publish her eleventh book.
Writing stories is a search of the soul and a capture of life and experience to share with the world.
We expect you to be much encouraged by your own writing endeavors when you hear what Molly has to say.
See you on Saturday, February 18, 2023, at:
Location: Map
Word of Life Church
6111 South Pointe Blvd.
Fort Myers, FL 33919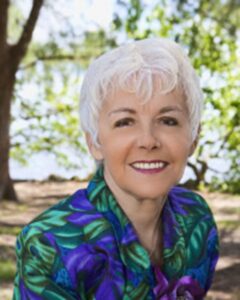 Irene Smith, President