Gulf Coast Writers Association Victimized by Theft
In September and October of 2022, during the lead up and aftermath of Hurricane Ian, we had $4,000 stolen from our bank account, via account-to-account transfers, from our account at Truist Bank.  This left us with only approximately $1,000 to operate.  All of this took place around the time of hurricane Ian.  We filed a fraud claim with Truist.  They did an investigation and denied our claim, despite overwhelming evidence that we were the victims of fraud.
Their reason for denial given was, "We have determined that the transactions were authorized and therefore not eligible to be returned."  When Mike Cole asked who authorized these transactions (only Mike is authorized to do so), they continually refused to reveal who the thieves were, even though they know who the perpetrators are.
These account transfers were initiated by another bank, which Michael Cole found out to be Suncoast Credit Union.
Mike opened a case (#22-480794) with the Lee County Sheriff's Office; they claimed banks do this all the time.  Mike was told they would wait and see how Truist respond to him and will then submit a subpoena for the relevant bank records, if necessary.  They have since subpoenaed the documents and the investigation is ongoing.
I have read the complete transaction report on this activity, rest assured; this was no amateur job.
It is clear the bank has no intention of returning our stolen funds; although, we continue our efforts to have them restored.
I ask YOU: why do banks protect the criminals and not their depositors?  How safe is anyone's money if the banks are permitted to persist in this behavior?
The answer is obvious: There are 16 full pages of lawyers in this area but not one handles fraud cases.  I stopped calling after 15.  The reason is obvious…there is no money to be made for the lawyers.
For three months and a countless number of hours, Michael has met with and documented every conversation he has had with Truist officers and their Centralized Fraud Claims Team members, and all have the same answer, "I cannot give you that information."
Mike contacted local TV media, but again, absolutely no acknowledgment of his request.
We are also in the process of moving our business to another bank, which we hope will be more attentive to the security of our deposits.
Ever since the COVID crisis, our membership attendance and renewals have dropped by nearly 90%.  We understand some people didn't wish to go out or gather indoors with a crowd of people, but for most, times have changed.  Without financial stability, we cannot survive as an organization.
I would like to make this very clear…this is not a request for charity.  We are asking that you renew your membership, so we can continue our goal of encouraging emerging writers, and to create an inclusive environment for writers and would-be writers.
Our January meeting will be held on Saturday, January 21, at 10:00am-Noon.  Remember, you can attend physically or via Zoom.  You can renew your membership through PayPal or mail a check to:
Gulf Coast Writer Association
P.O. Box  60771
Fort Myers, FL 33906
Details of that meeting will be discussed in the January 2023 President's Letter.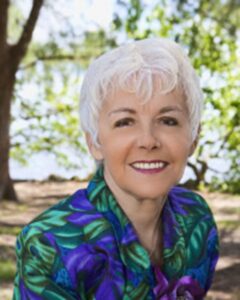 Irene Smith, President