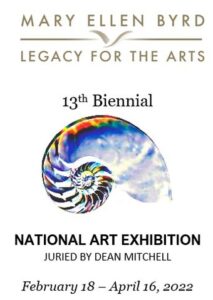 The Visual Arts Center in Punta Gorda is holding its Biannual National Art Exhibit beginning February 18, 2022, and running through April 16, 2022. In connection with the exhibit, they will hold a special Evening of Poetry and Art on March 23 from 7-9 pm.
We are looking for poets to be a part of this evening, where the visual arts come together with poetry. To do so, submit a poem for consideration inspired by one of the works in the exhibit. Deadline for submission is March 15, 2022. Ten poems will be selected to be read by the poets that evening.
Details about how to submit poems and how the selection process works are included in the Call for POETRY Submissions.
We are hoping to get poets from all of SW Florida! In order to get the word to GCWA poets, perhaps you could post the attached Call for Poetry Submissions on the website, or include the information in a newsletter. I'd greatly appreciate it. It's always a wonderful exhibit of art from all over the country, and the evening of poetry is always fun and exciting.
Any questions, please contact Dorothy Brooks at dhbrooks430@gmail.com.