Welcome our Speakers
---
Upcoming Speakers
---
March 2021
Speaker: D. L. Havlin
Topic: Open Minds — Open Books
March 20, 2021, 10:00 a.m. to noon
Zoom meeting
DL Havlin is an eclectic author whose novels, novellas, and short stories mirror his rich, varied background. He has packed three lifetimes of experiences into one brim full existence. He believes, "The one big advantage writing at an advanced age provides is that life is what you know and not what you project it might be." 
---

April 2021
GCWA Writing Contest
April 24, 2021, 10:00 a.m. to noon
Zoom meeting
Winners of the writing contest will be announced and authors will read their winning submissions.
---
May 2021
Speaker: Kathleen Sweeney
Topic : How To Create Professional Looking Images to Market Your Books and More with Book Brush
May 15 2021, 10:00 a.m. to noon
Zoom meeting
Join Kathleen Sweeney from Book Brush for a fun live walk-through of the Book Brush tools. Get ready to embrace the marketing side of writing & see why authors say Book Brush saves them both time and money! Learn how easy it is to use Book Brush to create your own eye-catching marketing images for all things social media. Plus explore video effects, create Box Set images, design your own book covers, animation and more! Kathleen will share handy tips & tricks along the way and have time for Q & A, too.
Bio: Kathleen is the Manager of Marketing and Customer Service at Book Brush. She has over 19 years of client service and business assurance experience. She thoroughly enjoys working with authors and helping them create eye-catching images. She lives in central Illinois with her husband and three busy boys. Her hobbies include reading and turning socks right side out.  
---
Past Speakers
---
February 2021 — Zoom meeting

Subject:
A panel of authors will discuss the pitfalls of publishing (the good, the bad, and the ugly).
Bob McCarthy: All publishers are not created equal. Some homework tips before you sign a contract.
Rick Pullen: The ups and downs of the writing life. You're on top one minute and plunge to the depths the next thanks to the vagaries of the book publishing business.
Marty Ambrose: Dodging the Pitfalls of Publishing Today:Finding an agent, Working with an editor, and Marketing a book.
Carol Kennedy: Don't Forget Who Your Readers Are And Don't Forget Who Will Actually Be Purchasing Your Book
Judy Loose: Lessons learned while working with an agent. Do your research before signing any contracts.
---
GCWA January 2021 – Zoom Meeting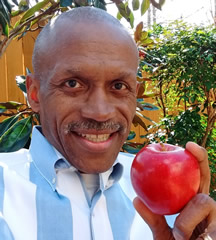 Speaker: Eric Simmons
Subject: How to get your book into libraries
Eric's third book, "Getting Your Book Into Libraries," which he will be discussing today, evolved from his well-received article, "How To Get Your Book Into Libraries"  The article is currently the top Google search result, excluding Ads, out of over 2 billion, on the subject of "getting your book into libraries." In his book,which opened at #1 on Amazon's "Hot New Releases" in the Library & Information Science Category,  Eric breaks down his strategy and methodology for contacting Libraries.  "Getting Your Book Into Libraries" is believed to be the first book ever written on how self published Authors can get their books into libraries.
Since Eric began introducing his books to Librarians two and a half years ago, 117 Libraries, including 7 of the Nation's largest, have ordered 157 copies of his books. Using email as his primary means of communication, 114 Libraries or 97% of his customers purchased after receipt of, on average, 3.7 emails.
Eric's Bio…
---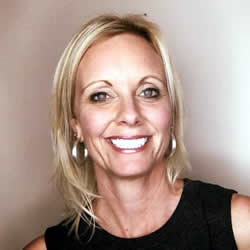 April's website: www.olearypublishing.com
presentation:
Decades ago aspiring authors had only two options secure a traditional publishing deal, or if you couldn't get one, publish your work yourself for a small fortune. Fortunately, writers have many more publishing paths available to traverse today that include various levels of difficulty. In this presentation, April O'Leary, founder of O'Leary Publishing, will discuss the pros and cons of each path including the amount of time and technology skills required for the author, the upfront cost, the opportunities for distribution and ownership of your work. You'll walk away with a clear trail guide to help you publish your book with success. See you at the top!
About April
April O'Leary is the founder of O'Leary Publishing, a hybrid book publishing company that serves independent authors who want a book to grow their brand, share a message or build a community. She is the author of six books and the host of the I'm Booked podcast. For more information you can visit www.olearypublishing.com and download The Influencer's Path to Successful Publishing free today.
---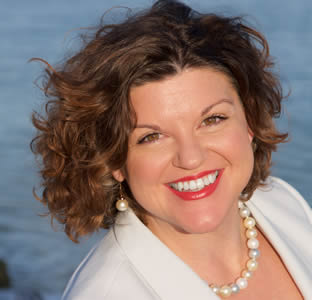 Rebeca's company website:  justonec.com
Get your questions answered and learn about a new opportunity for your writing! Throughout her 16-year career, Rebeca's abiding passion has been helping writers find an audience for their works. This interest led her forays into book publishing as well as film and television development. In 2019, at the behest of friend Micheal Flaherty (Walden Media), Seitz began exploring the podcast industry in depth. In 2020, she released her newly-formed company's first scripted podcast production, MAKING THE CUT (makingthecutpodcast.com), based on the memoirs of Dr. Michael Meguid. The show – featuring 99 characters voiced by over 60 actors from studios across the world – quickly climbed into the top 30% of podcast shows worldwide. Rebeca had hit on a new way for her writers to get their stories to the public: the scripted, spoken word. Now, she's bringing that knowledge to you. According to PodcastHosting.org, 50% of all U.S. homes are podcast fans…and the number is growing. Over 100 million people in this country listen to podcasts monthly. Studios and publishing houses alike have developed divisions specifically to acquire rights to podcast shows. Bottom line: if you aren't considering a podcast show for your words, you could very well be missing out. Rebeca will share information about the podcast industry and the process of converting the written word into a scripted series. Drawing from her long history in multiple parts of the entertainment business, she'll also answer your questions about publishing, film, and television paths for getting your work out there.
---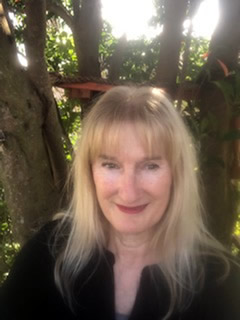 Jill's blog:  www.jillswriterscafe.com
Jill will provide tips on how to find markets that fit your writing style and genre, how to use social media to your advantage, and creative ways to market your work once it is published.
Jill Clark freelances prose and poetry. Among others, her writing has appeared in Lerner Publications, Pocket Change Literary Magazine, Hedge Apple Literary Magazine, Ariel Chart Literary Review, The Nature Conservancy, and The Henry David Thoreau Institute. She hosts workshops, lesson plans, and activities for children in libraries and schools around Florida-based on characters, themes, or literary techniques generated from her recent publication Loose Balloons.
Please blog Jill at www.jillswriterscafe.com if you would like her to host an event or presentation, purchase her book at a reduced rate, or if you would like the author and illustrator to personalize the book.
To preview a portion of the book from Amazon select:
---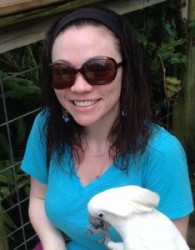 July 2020
Speaker: Geneva Kelly
Workshop: Writing from prompts
The Military Museum was a great venue for us
and the meeting was a success. We had some
delightful stories written on the spot from
prompts given by Geneva.
---
---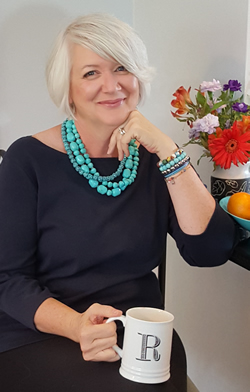 February 2020
Speaker: Ronnie Walter
Topic: 5 Secrets to Make Your Self-Published Book Stand Out in a Sea of Professionals
Visit her website at: 
http://ronniewalter.com
The difference between a typical DIY self-published book cover and an eye-catching, genre appropriate sales-generator by a professional designer can be the difference between sleepy sales and exciting daily results.
That's because people DO judge a book by it's cover.
Author and designer Ronnie Walter will share with you how to identify the visual language of your genre, how your cover can help potential readers discover your book, and also will walk you through the "Crimes of Bad Covers."
Whether you choose to design your own cover or hire a designer, the more you know about what works (and how to say it), the more your cover will represent the amazing writing on the inside!
Don't miss this opportunity to learn how to position your book for success!
Ronnie Walter, artist, writer and business coach for creatives, knows her way around publishing. She is both a self-published author and also has books with several traditional publishers. She is the author of License to Draw—How to Monetize Your Art through Licensing and More, Gruesome Greetings—A Georgie Hardtman Mystery, several gift books, numerous journals and has illustrated and published over 20 coloring books for adults. Her newest book, Gratitude with Attitude—How Journaling Thankfulness for Five Minutes a Day can Change your Life was released in October 2019, and Start here, Start Now, Start Anywhere—A Fill-In Journal to Discover Your Best Year yet! is scheduled for release in April, 2020.
Ronnie lives in Cape Coral with her husband, writer Jim Marcotte and the best shelter dog ever, Larry. She can be reached through her website at www.ronniewalter.com
---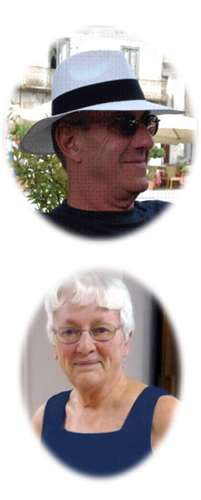 January 2020
Speakers: Bob McCarthy and Judy Loose
Topic: The 3 Ps of Self-Publishing — Preparation, Publishing, and Promotion
Bob and Judy will give a presentation on self-publishing covering subjects and suggestions on preparation, publishing, and promotion of your book.
Bob is a professional writer and editor with experience in both freelance and in-house writing. His articles have appeared in regional, national, and international magazines. He writes web content, video scripts, training manuals, social media content, and collateral material. More about Bob at gulfwriters.org.
Judy worked as an IT professional installing corporate computer systems and managing IT departments for thirty years. For the last twenty-plus years she has owned her own company, Loose Links. She designs and maintains websites, edits and formats books, and creates book covers. She has self-published two novels, The Janus Code and Mangrove Madness. More about Judy at judyloose.com and gulfwriters.org.
Handouts from Bob and Judy's presentation on Self-Publishing