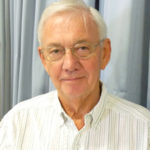 Dear GCWA Members and friends.
A quick note to remind you of this Saturday's meeting, February 16th starting at 10am and held at Zion Lutheran Church, 7401 Winkler Rd.
Mr. Ben Bova, novelist, radio/ TV commentator, award winning editor and aerospace executive will be our speaker. He will advise us on "The Ten Things I Wish I Knew before I Started Writing."
During Mr. Bova's presentation some of us will be comparing his list to our own; all the while wondering how his list only has ten, when ours number in the dozens. Come early for a good seat for we could break the one hundred mark for attendance this Saturday to hear this popular lecturer.
There are a very limited number of spots available to fill for the March 16th Southwest Florida Reading Festival at Harbor Side Center. Call Ken Feeley 239-992-2726 or Hank Heitmann 239-415-8626 if you're interested. As always check out www.gulfcoastwriter.org for all upcoming events.
Mark on your calendar that due to the March 16th festival our annual business meeting will be rescheduled for March 23rd and will be held at Covenant Presbyterian Church, 2439 McGregor Blvd. And remember, winners of the GCWA writing contest will be announced at that time. More on this next month.
See you Saturday. Remember; early, coffee, snacks, socialize…
Regards,
Tom Nelson, President