A PLACE NO ONE SHOULD GO:
Keana-eno-pa-watchee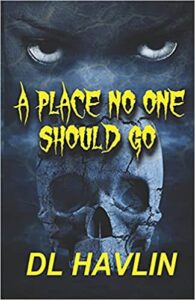 A Place No One Should Go is a gripping tale set in Florida's wilds. The book weaves historical information in this suspenseful story highlighting one of today's most timely topics, modern man's ambivalence between morality and sexual infidelity. Canoeing into the Florida wilderness is a near weekend ritual for the Callison family. Even the youngest of their three children at five years old knows how to safely navigate the dangers of the wild. But what happens when the wilderness they are required to traverse is contained within a man's soul? Ben Callison and his family's latest camping trip takes a strange and sinister twist when they meet a mysterious Indian where they elect to pitch their tent. The Seminole warns Ben he's camped in a place that evil calls home. Is the terror that lurks there a resident of the mound Ben's camped on or does it reside within him? Ben must find out if the shapeless dread he faces is from within or without, and if he makes it out alive, does anyone ever really return from A Place No One Should Go? Anyone who enjoys finding out how a tale that reviewers state "requires the light be left on when reading at night", learning about Calusa Indian spirituality, and adventures set in the Florida outdoors will love this novel.