Murder, She Wrote: Debonair in Death
(Murder She Wrote Book 54)
by Jessica Fletcher & Terrie Farley Moran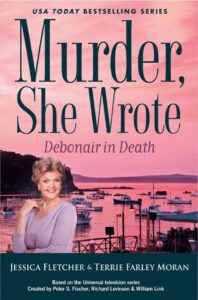 When Nelson Penzell, co-owner of a local art and treasure store in Cabot Cove, is murdered, the nail tech from Jessica Fletcher's favorite beauty parlor is the main suspect. After all, she's the one who ran out of the store screaming, covered in blood, and holding the murder weapon. Jessica is positive that despite the circumstances, Coreen can't possibly be guilty, and is determined to prove it. When Michael Haggerty, handsome MI-6 agent and Jessica's old friend, is caught snooping around the victim's home, it's quickly apparent to her that she was right. Nelson has always had a bit of a reputation for being a rake, but Haggerty is sure his sins go far beyond what anyone in town imagined. If she wants to clear Coreen's name, Jessica will have to work alongside Michael to find out who killed Nelson—and maybe help bust a crime ring in the process.