My Archive
by Gary McLouth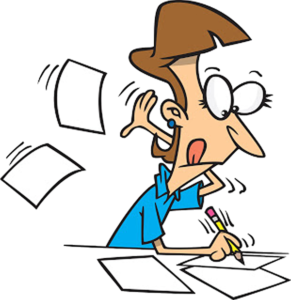 The den, euphemistically called "the office," is walling in on the 7 X 3.5 ft. mahogany writing table. Book shelves long overstocked sprout files and layers of borrowed and purchased reading, but there's still some floor space, and I know the contents of each pile, sort of. My wife remarks how I'm turning the cozy den into a "rat's nest." Since I was born in the Chinese year of the Monkey, I respond with scratching and giggling.
The scene reminds me of graduate assistant day at SUNY Albany. The Associate Director of the just launched NYS Writers Institute, where I had a position, asked his Assistant Director and me to get his "damned office" organized so he could keep his academic course material separate from the anticipated onslaught of Writers Institute business. The afternoon should be time enough for the job, he assumed.
The room layout was awkward, crammed by two bulky desks butted end-to-end, squeezed into the space where one might have been able to get to the windows that overlooked the courtyard three stories below. Tiers of books and files leaned precariously from floor-to-ceiling shelves along all available wall space. Boxes and an assortment of shopping bags littered the floor. There was just enough walk-around area for a tightly choreographed dance trio. And, the room was cold.
We started where most reasonable do when facing someone else's office stuff. Laughter, hilarious laughter. Then, careful not to break anything, we sifted through reams of notes, papers, and copies of copies. A random collection of novels, short story collections, medical and law tomes, Bibles and dictionaries got sorted. Texts marked by paper clips and match books were stacked. When we got down to the surface of the desks, gritty scraps of paper and ripped magazine pages waited: phone numbers and names, phrases, indecipherable messages. We liked, "call me." Clearly out of date, the scraps got scrapped. We wiped the desks clean and started on the bags and boxes. Mistake.
What to do when confronted by the self-collected hagiography of a man's live? Beginning with love poems from the 1700's, we did our best to arrange the mess into a kind of chronology. Books first, manuscripts second, personal letters last. The method helped clear a path to the open windows which let in the cold. It also exposed an Oakwood pole rack in the corner; it was draped with several heavy wool overcoats and two hand-knit mufflers. In a crook of moth-eaten collars, a little bird sat silent on her eggs.
I remember a look of discombobulation on our mentor's face. Some nervous laughing and a timid retreat from the "new office." As we passed down the long hallway, we heard a plaintive moan. "Where's my novel?"
Years later, his mother and a trusted friend scoured every possible redoubt for the novel manuscript. Nothing. Sometimes I wonder whether the novel my mentor was looking for was in that archive of a rat's nest, or whether he was uttering a Jobian epithet of despair. I don't really know, but as things pile up around here, I take comfort in believing there're some stories in my archive.
***
Feel free to leave a comment about your thoughts. What did it make you remember of your own life?