The Ghost of Gresham Green: The Adventures of Nora Brady, Student Nurse #3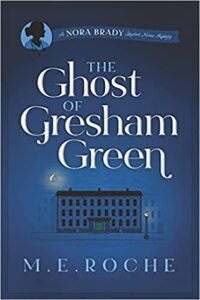 In this third book of Nora Brady's adventure, Nora and her friend Tina are now in Dublin, Ireland, on a work-study phase of their student-nursing program. Charmed by life in Dublin, Nora soon learns that even there people can have a dark side. After meeting fellow students Ailish and Maire, who are cousins of her friend from home, Dan Maguire—the police detective in Jacobsport—she once again becomes entangled in a web of politics, lost jewels, and murder.
This time, however, she has help from above. As Nora learns the history of Gresham Green hospital, she discovers the legend of Lady Margaret Hampton, a ghost with a tragic past, who has continued to watch over the people of Gresham Green. With Nora's help, Lady Margaret is finally allowed to rest in peace. As Nora expands her nursing skills in pediatrics, she finds fun, friends, danger, and mystery beyond her wildest imagination. Once again, she is up to the task.
The Ghost of Gresham Green is an engaging thriller reminiscent of Nancy Drew, Sue Barton, and Cherry Ames. It highlights the world of nursing today and shows that the concerns of nurses are the same the world over.