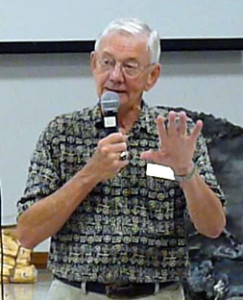 What's a small town boy like me doing, publishing another book of stories about Fennimore, Wisconsin, the town I grew up in, then left a long time ago; but can't quite ever leave in my mind? Thanks to an assignment from the Fennimore Times newspaper, in 2002, I have had the wonderful opportunity to recall friends, acquaintances, relatives, and events in a weekly newspaper column called "Fennimore… As I Remember."
My latest book, That's My Story, And I'm Still Movin' on, is the sixth gathering of a number of yarns and tales from years past. The first book, That's My Story, And I'm Sticking to It! was followed by, That's My Story, And I'm Still Sticking to It! followed by third, fourth, and fifth. I trust readers will find this latest account to their liking and that my narratives of Fennimore, past and present, will give you similar affection for my favorite hometown and its history. I caution people that these too could be your stories, merely change the names and your friends may appear on every page.
I recently read that author, Studs Terkel, said, "People are hungry for stories––its part of our very being. Storytelling is a form of history, of immortality too. It goes from one generation to another." Sounds good to me, for I'm a story teller, not an author.
As for my background, I was educated as a mining engineer, followed by a stint in an Arizona copper mine and then pursued a career in sales and management in mining and construction related industries. After living in eleven locations around the country my wife, Dorothy, and I have settled down in the Ft Myers Fl area. I can be reached at normsson@yahoo.com.