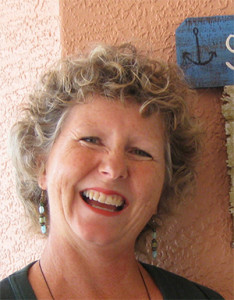 Went into the real estate business in 1977 in Illinois. Moved to Cape Coral, FL in January 1993 and got licensed here. After so many years, SO MANY people have asked me "What's it really like to be a Realtor?"
So, I am writing a book, "Easy Money…… and 6 other real estate myths".
Learned to sail in my 30's and bought our first sailboat in 1994 after moving to FL. Started racing her and after 4 boats, I now skipper my own 32′ Catalina, Windy City in SW FL. From 2000-2015, I have written and sold many articles about sailing and racing to local sailing magazines, as well as international ones.
Just joined a Writer's Critique Group in the fall of 2014, and have learned so much! Hoping to get my real estate book done and start marketing fall 2015.
In August 2009, I was diagnosed with Non-Hodgkins Lymphoma. After six months of chemo, things got back to semi-normal. Then, it returned in June 2011. Another six months of chemo. June 2012, breast cancer decided to pay me a little visit… all along, I maintained a Caringbridge account online to keep friends and family updated. Many folks like my writing style and encouraged me to "write a book". That can be a future project, "How to talk to a person who has cancer"… or something like that.
The GCWA is such a wonderful forum of fascinating people! Although I cannot attend many meetings (racing seems to conflict on most Saturdays), I leave each meeting feeling inspired and having learned something new.