WORD SONG interview with Dorothy Brooks at the McGregor Café, Fort Myers, Florida.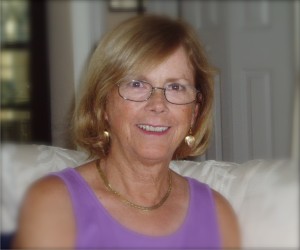 by Gary McLouth
October 22, 2016
"A poem is a small (or large) machine made of words." William Carlos Williams
Dorothy Brooks hails from Atlanta, Georgia, and like many of us transplants, she had to make some adjustments. Instead of commuting from Atlanta to Lake Lanier for sail boating, Dorothy and her husband now step aboard from the dock behind their home. That kind of adjustment makes one feel like a genius, but what about a poet (wandering lonely as a cloud) looking for other poets? Dorothy was well aware of the solitary nature and often secluded life-style of poets. Sightings can be rare enough to try the soul.
A long time ago, I went to a writers group in Peace River… then, I heard about the Gulf Coast Writers Association. I remember entering the GCWA meeting place. Tables were set up by genre, and I spotted the Poet's table. It was like a moth being drawn to a fire. Several people sat around the table, and a feeling of belonging washed over me. Poets, writing poetry! My tribe!
As members of different yacht clubs, we agreed that dinner conversation rarely touches on poetry. The name games don't include poets. Okay, maybe Shakespeare.
I get bored with table talk about what other people have done, and when attention turns to the present, well, golf and grandchildren don't hold much interest over the long haul. If I am asked what I do, now that I am retired, my enthusiastic responses about poetry are quickly deflected by statements like, "Oh, I should write a book, but who has the time?" and "You can't make money writing," and "Yes, but what do you actually do?"
Dorothy and I talked about types of poets.
I see a personal poet, one who writes strictly for one's self, family, a few friends. No idea, or intentions of writing for a larger audience. Then, there's the poet who writes for the public. This poet thinks about publishing; the poetry gets sent out to audiences beyond family and friends. That's a poet who's trying to make a connection with the world, so to speak. I guess I'm that kind of poet.
Dorothy writes "nature" poems because she loves experiencing the marshes, the barrier islands and the Gulf of Mexico waters, but poetry is more than the crafting of words to engage nature. Her teaching in the FSW Life Long Learning program in Punta Gorda, encourages her fellow poets to "look at this, witness!" not to politicize or demagogue but to become aware of how the language is used to describe and to express things.
I was a math major in college, a career IBM-er. This whole poetry adventure grew out of my waning interest in one and one equals two. The other side of my brain kicked in to fill the vacuum, and I've been reading and writing like crazy to catch up. I'm self-directed as far as English and writing are concerned. Workshops with poetry teachers and conferences attended and led by experts have guided my own writing teaching. There's a lot of experimenting with other poets' styles. Right now, I'm reading Laura Kaschicki and Sylvia Carbelo. 
I ask Dorothy what 'catching up' is all about. She stares me down for a moment, takes a careful sip of decaf. "You know what I mean."
Getting back to personal and public poetry, I'm not saying that writing about personal feelings is forbidden in public poetry, quite the contrary. It's in how those personal feelings are written about. There are rules and formulas for writing news stories, short stories, memoirs, novels, children's stories and so on, but a poem can take many different forms, set its own rules even when following other rules. That's why I love writing poetry. There's always more to learn through writing poetry and from reading what's in poetry.