January 2019
Gale Massey lives in St. Petersburg, FL. Her stories have appeared in the Tampa Bay Times, Walking the Edge, Sabal, Seven Hills Press, Connotation Press, and other journals. She has been a Tennessee Williams Scholar at the Sewanee Writers' Conference and a Standiford Fellow at Writers in Paradise. Her debut novel, The Girl From Blind River, is a coming-of-age crime novel set against the backdrop of illegal gambling and small town corruption, and is available at her website.
Meeting: January 19, 2019
10:00 AM – 12:00 Noon
Location: [map]
Zion Lutheran Church,
7401 Winkler Road, Fort Myers, FL 33919
February 2019
Finbarr Corr was born in Ireland and came to the US as "missionary" priest in 1960. He finished his education with an Ed D from Columbia University. During his 28 years as a priest he was very involved working with youth and engaged couples. He resigned the priesthood to marry and started his own marriage and family counseling practice. He taught psychology for ten years and has been an author for 15 years.
He has written and independently published numerous books, including two autobiographies, one memoir of a 93-year-old friend, one book for married couples, and one for teens and their parents.
Website: www.finbarrcorr.com
Meeting: February 16, 2019
10:00 AM – 12:00 Noon
Location: [map]
Zion Lutheran Church,
7401 Winkler Road, Fort Myers, FL 33919
November 2018
Note the alternate meeting location at Seven Lakes Community (this meeting only, details below)
Tim Jordan and Joanna Salapska-Gelleri
Tim Jordan and Joanna Salapska-Gelleri are both published authors working on their first collaboration, a general audience textbook for Routledge Press titled Mind, Brain, and Artificial Intelligence. Tim is a systems engineer by training who originally hails from Essex, United Kingdom and Joanna is also a transplant from Eastern Europe, namely Poland and Hungary. Tim is a science fiction author who's short story, The Push Bike Legion, was published in the 30th Anniversary of Galaxy Press's Writers of the Future Anthology. He has also completed several full-length novels and a trilogy. They will be speaking about their journeys from scientific writers to creative collaborators and their current work on the mysteries of the brain, including: memory, language, and machine learning.
Their talk will focus on how a current writing project took them on a journey from crafting their first book proposal, the anguish of waiting for a response, to a textbook manuscript that neither expected to be working on. They will also address the hidden knowledge and skill sets we possess that with a bit of reflection, we can all access and use to our advantage as budding and professional writers.
Download Tim and Joanna's presentation slides here
Visit Tim Jordan's Amazon Author's page
Meeting: November 17, 2018
10:00 AM – 12:00 Noon
Location: [map, this will get you to the community; do not go to the Golf Course]
Seven Lakes Community, [layout of the community grounds]
1965 Seven Lakes Blvd, Fort Myers, FL 33907
To get to the meeting in the main building at Seven Lakes Community, enter at US-41 and Seven Lakes Blvd. Once in the gate, make an immediate right, and the building is on the left. Plenty of parking available and a restaurant on site.
October 2018
I don't recall exactly when I sold my first article, but it was sometime in the 70's. Since then, I have written and consulted for Woodcraft magazine, Classic Auto Restorer, Thousand Trails Campgrounds, World MAP, the Methodist Churches of Cuba, Ten Tables Restaurant, the Equation Gallery and Restaurant, and many more.
Having spent the last 7 years on St. Croix in the U.S. Virgin Islands, I am living now with my wife in southwest Florida. JackDunigan.com is a site in process.
Meeting: October 20, 2018
10:00 AM – 12:00 Noon
Location: [map]
Zion Lutheran Church,
7401 Winkler Road, Fort Myers, FL 33919
September 2018
National Award Winning Author – ​Speaker
Brain Injury Awareness Advocate
M. A. Appleby is an artist, avid reader, and retired Certified Landscape Designer. She is a mystery buff who enjoys traveling and lives in Southwest Florida with her husband and son. The concept for her books came from a journal written the day her son suffered a TBI (traumatic brain injury). This tragedy threw their family into turmoil as they tried to understand what lay ahead for them.
As a caregiver, it is important not to lose your 'sense of self' and that's where writing became cathartic for her. She thought they would wake up from the nightmare and their lives would go back to 'normal', but that didn't happen. That 'recovery' journal was the impetus Ms. Appleby needed to write The Ancient Whisper, Whispered Dreams, and Journey of a Thousand Steps that comprise A Whisper of a Mystery Trilogy. Each chapter starts with an inspirational saying, uplifting quote, or a prayer sent or given to her throughout the recovery phase of her son's ordeal.
After the third book in the series was published, Ms. Appleby realized she finally had closure. She was then able to write her son's story, RAISING DAVID AGAIN. As a brain injury advocate, she now lectures to support and caregiver groups where they share their stories of encouragement and hope as they move forward in this ever-changing and ever-evolving situation.
Topic: My Journey of Writing
M.A. Appleby was looking forward to retirement when life threw her a curve ball. In this lecture, she explains how her background, life experiences, and training eventually helped her develop a style of writing and what she discovered on her journey through this process.
Writing became her therapy, as she coped with being a 24/7 caregiver to her son, who suffered a traumatic brain injury just twelve days after moving to Naples, Florida. With limited time, the internet became her best friend when going to the library was not an option. Marjorie brings enthusiasm, inspiration, and humor, while imparting information as she shares what worked for her on her way to becoming a published author.
Outline:
Changing Careers and Hardiness Zones
Stories in my Head
How the stories were developed
Developing a Style of Writing
Finding my 'narrative' voice
Using the internet for research
Programs to Assist Writers
Question & Answer Session
Meeting: September 15, 2018
10:00 AM – 12:00 Noon
Location: [map]
Zion Lutheran Church,
7401 Winkler Road, Fort Myers, FL 33919
August 2018
New York Times bestselling author Lisa Black is the author of seven novels in the Theresa MacLean mystery series and two novels written as Elizabeth Becka. As a forensic scientist at the Cuyahoga County Coroner's Office, she analyzed gunshot residue on hands and clothing, hairs, fibers, paint, glass, DNA, blood and many other forms of trace evidence, as well as crime scenes. Now she is a latent print examiner and CSI for the Cape Coral Police Department in Florida, working mostly with fingerprints and crime scenes.
Lisa has lectured at writers' conventions and appeared on panels, and is a member of Sisters In Crime, Mystery Writers of America, and International Thriller Writers. As a forensic specialist, she is a member of the American Academy of Forensic Scientists, the International Association for Identification, the International Association of Bloodstain Pattern Analysts and is a Certified Latent Print Examiner. She has testified in court as an expert witness over 65 times. Her books have been translated into six languages. She lives near Fort Myers, Florida. Visit her on Facebook, Twitter, or at www.lisa-black.com.
Meeting: August 18, 2018
10:00 AM – 12:00 Noon
Location: [map]
Zion Lutheran Church,
7401 Winkler Road, Fort Myers, FL 33919
July 2018
The digital revolution has made it much easier to publish your book, but unfortunately it hasn't made it any easier to stand out in a the crowded market. With new releases coming out every day, authors must first get the attention of readers. And let's face it – that can be confusing. In fact, most creatives try for a bit, become overwhelmed and revert to their "happy place" of creating rather than keeping up the grind of marketing. Don't let that happen to you!
Ronnie Walter will walk you through the three principles that establish your unique contribution to the world, and then will help you break down the process of getting noticed.
Ronnie knows a thing or two about getting her work into the market. As a successful illustrator and writer, Ronnie has licensed her ideas onto thousands of greetings cards, gift books, coffee mugs, calendars, fabric, home goods and more. She is the author of License to Draw — How to Monetize Your Art through Licensing and More, Gruesome Greetings, A Georgia Hardtman Mystery and 14 coloring books for adults. As a business coach for creatives, she helps artists and writers find their voice, vision, and a path to make money with their art.
Ronnie can be reached at her website at www.ronniewalter.com or at your local Starbucks.
Meeting: July 21, 2018
10:00 AM – 12:00 Noon
Location: [map]
Zion Lutheran Church,
7401 Winkler Road, Fort Myers, FL 33919
June 2018
DL Havlin is an eclectic author whose novels, novellas, and short stories mirror his rich, varied background. He has packed three lifetimes of experiences into one brim full existence. He believes, "The one big advantage writing at an advanced age provides is that life is what you know and not what you project it might be." An avid lover of the outdoors and sports enthusiast, his passion for fishing, hunting and camping are frequently included in his writing. A deep love for nature and especially wild Florida often furnish settings for his work, but his travels make places such as Kiev, Singapore, London, New York, Modena, or Saxonhausen backgrounds for his stories as well . His unique combination of a vivid imagination and his ability to weave intricate plot lines, seasoned by his life-time exposure to fascinating story possibilities and his knowledge of human nature, provides the heart-felt, enjoyable reading his novels provide. He answers, "Why do you write?" by saying, "To entertain—that's first, but to provoke thought is a close second. I firmly believe both are done through the heart, for the mind is seldom opened until it is emotionally conditioned to respond." Come by and see me at www.dlhavlin.com and SandySays1.wordpress.com
Meeting: June 16, 2018
10:00 AM – 12:00 Noon
Location: [map]
Zion Lutheran Church,
7401 Winkler Road, Fort Myers, FL 33919
May 2018
Topic: Bright Ideas for Marketing Your Indie Books
Patti Brassard Jefferson is an award-winning children's book author and illustrator. She is also the CEO of PJ Boox, one of the very first independent bookstores to feature only independent and small press published authors.
Patti wrote her first book when she was only 8 years old – it was 10 pages long, illustrated and written on pink paper – so not much has changed over the years. After years of owning a graphic design company, a paint-it-yourself pottery studio and an art gallery, she finally got serious about writing and publishing her first book, How Long Will You Love Me? She followed up in 2014 with the award-winning Stu's Big Party. In the past four years, she has also illustrated 10 books for other authors and opened 2 bookstores.
Professionally, she is: a Partner Member of the Alliance of Independent Authors (2016 – present) and on the Board of Directors of the Florida Authors and Publishers Association (2014 – present)
In her copious amounts of spare time, she is a sunset expert, crayon sniffer, and amateur tiara model. She owns zero pairs of socks and lives under a palm tree with her 2 rescued mutts and1 rescued husband.

April 2018
GCWA Writing Contest Awards
Awards presented for the 2018 GCWA Writing Contest and recipients read their winning entries.
To learn more and to read winning entries, visit our Contest Page.

March 2018
Karen Dean Benson
Author–historical and mainstream fiction
Topic: Mapping out a Novel; character creation; world building.

One author's path to publication, bumps, hiccups, and lots of scribbling until a light at the end of the tunnel reveals itself.
If you are a beginner and want to get inside the head of someone who was/is a beginner with a shimmer of success, listen to Benson's lively tips on novel construction.
Karen gained a love of history from travels that took her into many different cultures around the world. A voracious reader from an early age, she loves research, history, and tales of complicated lives. Her stories, woven against the backdrop of a by-gone era, present numerous plot twists. Her Ladies of Mischief blunder through attempting to live within the social constraints of the 18th and 19th Centuries.
Karen born in Detroit, attended college in the Alma campus of Northwood, lived in Grayling, Michigan for twenty years, then Montrose, Michigan for not quiet twenty years, and now resides in Bath, Michigan with husband, Charlie. They divide their time between golf courses in Michigan and Estero, Florida.

February 2018
Suzi Weinert

Topic: My Writing Adventure

Suzi Weinert is the author of Garage Sale Stalker, the first novel in a series of Garage Sale mysteries. A member of the Mystery Writers of America and Sisters-in-Crime, she lives with her husband, a retired Army officer, in the Virginia countryside.  The award winning author has been featured on TV morning exclusives, talk radio, internet blogs and magazines all at the age of 76 stemming from her thrilling novels that seem to bring consistent mystery and adventure to peoples lives everywhere.  Check out her exclusive interview in 2016 by clicking the link here –> http://bit.ly/1PyhWsH
Ms. Weinert's work is the inspiration for the powerhouse series of films that is run religiously on the Hallmark Movies & Mysteries Channel.

January 2018
Sharon Harrigan

Topic: Memoir Writing

Sharon Harrigan is the author of Playing with Dynamite: A Memoir, published in October 2017 by Truman State University Press. Her work has appeared in the New York Times (Modern Love), Virginia Quarterly Review, Narrative, and elsewhere. She teaches writing at a literary center in Charlottesville, Virginia.
Praise:
"Sharon Harrigan has written a thrilling memoir, Playing with Dynamite, about searching for the truth about her dad, a man who blew off his hand with dynamite before she was born and died in a very, very weird accident.  Both about the danger–and relief–of finding the truth, it's also a gorgeously written page-turner."—Caroline Leavitt, bestselling author of Cruel, Beautiful World
"A warm, engaging read about the ways in which memory distorts our understanding of family."–Kirkus Reviews
"A daughter embarks on an odyssey to find her father, to find herself, and to find her way home. She is, by turns, both Telemachus and Odysseus, and her story is both epic and intimate."—Nick Flynn, author of Another Bullshit Night in Suck City
"This memoir hit me in the gut and made me feel all kinds of complicated, lost in the wilderness of the human heart, but this much is clear: Sharon Harrigan writes with grace and unflinching honesty."—Benjamin Percy, author of The Dead Lands
"Sharon Harrigan's writing is frank and fiercely honest. Playing with Dynamite is a tremendously potent book."—Debra Gwartney, author of Live Through This 

November 2017
Michael Homolka

The Case for Writing Exercises: Prizing the Daily over the Cosmic
The most important things in our practice are our physical posture and our way of breathing. We are not so concerned about a deep understanding. —Suzuki Roshi, Zen Mind, Beginner's Mind. As a writer, I often start with a subject and then search for the words to express my emotions and understanding. Suzuki Roshi offers another way. His emphasis on breathing and posture suggests that "deep understanding" can be highly overrated! This talk will explore the possibility of beginning with words, then working backward to discover our subject. We will look at poems by Andrew Marvell, Louise Glück, and Mary Ruefle, to delve into the daily, rather than the cosmic, aspects of writing. Using volunteers, we will engage in a live demonstration of the ways in which a good writing exercise can allow us to leapfrog over that first layer of emotion into the uncharted.
Michael Homolka is the author of Antiquity, winner of the 2015 Kathryn A. Morton Prize in Poetry from Sarabande Books. His poems have appeared in publications such as The New Yorker, Ploughshares, The Threepenny Review, Antioch Review, Agni, and Poetry Daily. A graduate of Bennington College's MFA program, he currently teaches high school students in New York City.

October 2017
Maryann Cipressy

Do You Have A Social Media Marketing Strategy?
Perhaps the single most important aspect of social media marketing is having a strategy. We will be discussing how to create a strategy, the components of a strategy and how to identify your target market. Having good content is also important for your strategy and plan to be effective so we will be discussing what makes good content and what does not. There will also be time for a Q&A.
Mary Anne is the co-founder and president of What's Up SWFL which provides social media marketing and management services to locally owned businesses and professionals. What's Up SWFL has been providing these services since 2010 and is in Fort Myers Fl. Mary Anne also teaches social media marketing to groups and individuals. These classes are geared towards meeting the goals of the attendees and involves developing a plan and strategy that best suites the attendees needs.
Check out Maryann's Social Media Bootcamp.

August 2017
Judy Loose
Publish Your Book With CreateSpace
Want to see your book in print without spending years trying to find a publisher or carrying hundreds of books in inventory? Then join Judy as she shares how to get your book published via CreateSpace. She will take you through the steps required to plan, submit, and bring your book to life. And the best part? You can get your book published for little to no money.
Judy Loose is an Information Services professional. If it has to do with computers she has done it—from pulling wires through the ceiling and taking the computer apart to make it work to designing, implementing, and managing complete corporate systems. She is also a writer and painter. Certified in web design, Judy currently builds websites, creates book covers, and formats books for authors publishing on CreateSpace and Kindle.
 Websites: www.judyloose.com, www.looselinks.com, www.januscode.com, www.mangrovemadness.com, and www.jcferguson.net
Judy's blog: www.onReadingandWriting.com
July 2017
John Mills
Mystery Writing
John Mills is a fifth generation native of Ft. Myers, Florida, where from childhood to the present, he has enjoyed his favorite hobby—fishing the waters of Pine Island Sound.
He started his legal career as a prosecutor for the State Attorney's Office in Ft. Myers. In 1990, he began his private practice, concentrating in Divorce and Criminal Defense and worked for Mockler, Porter & Mills. Since August of 1993, he has worked as a sole practitioner.
In addition to fishing, John is a lifelong avid reader. In 1999, he wrote his first local murder mystery, followed by five more. His latest novel, "The Hooker, the Dancer and the Nun," which highlights social media as evidence in criminal cases, will be the subject of Mr. Mills's presentation.
Website: www.jdmlaw-ftm.com/
Facebook: John D. Mills P.A.
June 2017
Ben Feldman
Describing a Character
The best stories are those that make you laugh, cry, or throw your hands up in anger.  Why?  It's because of the characters.
On June 17, come listen as Ben Feldman illustrates some character traits and educates us on how we writers can use such traits to create characters that make a lasting impression on a reader. Character is not just the veneer of personality. It is the outside and inside of whom we are and why we are.
From his professional expertise and experience, Ben understands we all have a conscious awareness plus an unconscious awareness. And the combination explains behavior in both the real world and the fictional world. His presentation will illustrate why both protagonists and antagonists behave as they do and will include examples from well-known works to illustrate the development of their character.
Ben is in private practice and is a self-employed consultant to home healthcare agencies in Fort Myers. He completed a three-year post-graduate study at the Tampa Institute for Psychoanalysis in Psychotherapy, is a member of the Tampa Psychoanalytic Society, and holds an MSW degree specializing in psychiatric social work. He has practiced with children, adults, and senior adults. He worked with Hope Hospice for two years, primarily with dementia patients and patients with end-of-life issues as well as their families. He lives in Fort Myers, and is a member of the Gulf Coast Writers Association. He is a published poet.
May 2017
Don Platt
Contract Pros & Cons
Want to know the ins and outs of an author's contract? Don Platt will present an annotated author's contract from the Author's Guild, and share alerts and warnings of such contracts. He will discuss how to get out of a contract and reveal an experience he and other authors had and are still having with a certain publisher.
Donald Michael Platt is the author of five published novels, one book he ghosted, and two books he co-authored. He sold to the TV series, Mr. Novak, and ghosted Your Hair and Your Diet for a health food guru. Mr. Platt is the author of; A Gathering of Vultures; Vitamin Enriched; The Couple's Disease; Rocamora; House of Rocamora; Close to the Sun; and Bodo the Apostate, to name a few. Mr. Platt's new novel, The Sorceress and the Skull, is a historical fantasy, soon to be published.
He attended graduate school at San Jose State where he won a batch of literary awards in the annual Senator Phelan Literary Contest in 1959. Website: donaldmichaelplatt.com
April 2017
Glenn Miller
Life in a Newspaper
Glenn Miller was first paid to write in 1975 when the St. Petersburg Evening Independent paid him a modest sum to cover a football game at Boca Ciega High School. He was asked to cover another game the following week and the week after that and after that and… forty-two years later he is still getting paid to write.
Glenn's first novel, Grabmore, was recently published. He likes to call his story of life inside a large newspaper chain a "comic crime caper" and uses the word "frothy" to describe it. Readers may call it something else.
Glenn worked at The News-Press from 1987 to 2012. He is currently a freelance writer and writes primarily for Florida Weekly.  glennrmillerwrites.wordpress.com/
March 2017
Irene "Susie" Smith was a restless, mediocre student, a "disturbing element," in parochial school.
Writing that first novel Angel of Tears was a long-time effort for a lifelong writer. "I flunked Impromptu Writing. I've have never been able to write something acceptable the first time around. I am more of a rewriter than a writer. But I know when it finally comes together."
Irene will explain how to create colorful characters and memorable settings, writing a memoir as fiction, exercises for writers block, how to pull it all together—and more.
Irene has been a member of the GCWA since 2009, and Membership Chair since 2014.
January 2017!
Happy New Year!
JOHN KEYSE-WALKER practiced law for 30 years, representing business and individual clients, educational institutions, and government entities. He is an avid salt- and freshwater angler, a tennis player, kayaker, and an accomplished cook. He lives in Ohio with his wife. Sun, Sand, Murder is his first novel and the winner of the 2015 Minotaur Books/Mystery Writers of America First Crime Novel Award.
Contests and Competitions: A Non-Traditional Path to Traditional Publication
Summary of Topic: While most writers follow one of two routes getting their work into the hands of the reading public, there is a third route – contests and competitions. Hear from John Keyse-Walker, author of SUN, SAND, MURDER, on how he became a traditionally published author by winning the Mystery Writers of America First Crime Novel Competition.
Suzanne Mozes – Finding Voice
October 15th, 2016
Regardless of genre, the voice of a narrator on your page is the first being with whom your reader interacts. Finding that voice (your voice, a character's voice, any voice really) is a truly difficult, mind bending skill. We will look at how talented authors capture this elusive, and yet vital, element of writing with dexterity and aplomb. The focus here will be to elicit each student's individual voice and cultivate that person's true identity, as only they can speak it, in all of its idiosyncrasy and individuality.
Suzanne Mozes is a writer, editor, and author. She is at work on a narrative non-fiction biography about Dante Gabriel Rossetti and his masterpiece Beata Beatrix, due out next year with W.W. Norton. She also writes long-form non-fiction stories and occasional essays and book reviews for literary publications.
In 2013, she founded Story building, a creative writing class series in Atlanta. Most recently, she launched a Saturday morning writing series for creatives in the South, free of charge and open to anyone, called Under/Over/On. She is also a member of Narrative Collective, a group of Atlanta writers who meet weekly at the Goat Farm Arts Center to give feedback on works-in-progress and generate new work.
Ben Feldman
August 20th, 2016
Describing a Character
What is Character in a novel and how do you describe it. Some examples of good novelists that render characterizations will be offered. To describe and show characterization I will use examples from literature like Sister Carrie, Holden Caulfield from Catcher In the Rye, plus ideas from Anais Nin and her novellas. In addition, I will discuss how understanding character in a novel or story is like a psychotherapist understanding a patient. Also, excerpts from nonfiction diaries like Alice Doesn't Live Here Anymore will demonstrate the signs of character meaning in thought and action.
Mr. Feldman is in private practice and self-employed consultant to Home Health Care agencies in Fort Myers. He is a member of the Tampa Psychoanalytic Society who completed a three-year post-graduate study at the Tampa Institute For Psychoanalysis in Psychotherapy. He hold an MSW degree specializing in psychiatric social work. He has practiced with children, adults and senior adults and worked with Hope Hospice for two years, primarily with dementia patients and patients with end of life issues in families. A resident of Fort Myers, he is a member of the Board Of Directors of the Gulf Coast Writers Association. He owns two dogs, Toy Poodle and Bichon Friese, and is a published poet.
Workshop & Critique #1 – Create a Character
July 2016
Character Creation & the Critique Group Process, led by our Programs Director, Bob McCarthy
Members, visitors, and guests! For the July 16th meeting, you need to create a character. Bring the description of him, her, or it to our character-friendly, monthly meeting and introduce them to your peers.
Your character can be based in a work of fiction, non-fiction, poetry or drama. They can be good, bad or indifferent.
For tips on creating characters, visit Writeworld.com – click "Toolbox" on the menu bar.
Describe your character on one page, double-spaced.
Bring six copies of your description to the July 16 meeting.
Participants will be formed into small, supportive critique groups.
They'll meet, greet, and maybe interact with your character.

For the September meeting, you'll create a setting for your character.
Come November, combine the two and start your contest entry.
Workshop & Critique #2 – Create a Setting
September 2016
Members, visitors and guests! For the September 17 meeting, you will create a setting. It can be a familiar place, a place from your past, or a place you wish did exist.
Bring the description of your setting to our monthly meeting and show it to your peers. Your setting can be for a work of fiction, nonfiction, poetry or drama. For tips on creating settings visit: writeworld.com & click "Toolbox" on the menu bar.
Creating a Setting & the Critique Group Process
1. Describe the setting on one side of paper, double-spaced.
2. Bring six copies of your description to the September meeting. 3. Participants will be formed into critique groups of six people each. 4. You'll review and comment on each other's work.
For the November 19 meeting, we will combine your character from the July meeting with your unique setting and write an opening to your work of fiction, nonfiction, poetry or drama.
Have a blast!
Writing Workshop & Critique #3 – Combine story & character and begin Your Story
November 2016
Members, visitors and guests! For the November 19 meeting, you need to take your character from July, your setting from September and great an opening for your work.
Your great opening can be for a work of fiction, nonfiction, poetry or drama. Bring it to our monthly meeting and ask your peers to critique it. For tips on great openings and more visit: writeworld.com.
&
click "Toolbox" on the menu bar.
Creating a Great Opening & the Critique Group Process
1. Print your great opening on one side of paper, double-spaced.
2. Bring six copies of your opening to the November meeting.
3. Participants will be formed into critique groups of six people each. 4. You'll review and comment on each other's work.
This is a great opportunity to create and refine your entry for the GCWA writing contest. The deadline is December 1, 2016.
See the GCWA web site for contest details.
Have a blast!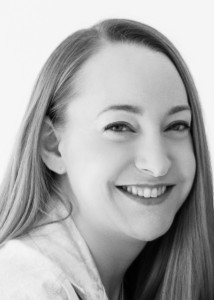 Dorothea Sonne
June 18, 2016
Dorothea Sonne is the Food and Wine editor at Gulfshore Life magazine, one of Southwest Florida's preeminent lifestyles publications. She writes features and reviews that cover the local dining scene, and she manages a stable of freelance writers. Dorothea was recently inducted into the Chaine des Rotisseurs, the world's oldest and largest gastronomic society. She'll speak about her experiences as a food reviewer and offer insight on exactly what an editor is looking for from her writers.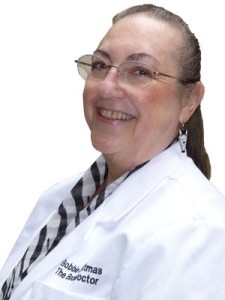 Bobbie Christmas, The Book Doctor
May 21,2016
Writing in Style to Win
Editor Bobbie Christmas is your book doctor. She can also be your mentor, ghostwriter, copywriter, and writing and publishing consultant. After spending decades writing and editing for a living, Bobbie became a much-sought-after seminar and workshop leader. She began Zebra Communications in 1992 in Atlanta, Georgia, to provide professional editing services to publishers and to writers like you.
In the early 1990s, the book-publishing industry went through change and turmoil. In a cost-saving move, publishers preferred to buy edited books, rather than unedited ones. Bobbie saw a need, took a leap from the corporate ladder, and devoted herself full-time to Zebra Communications. In this role, she combines her love of writing with her understanding of the challenges of a writer. She gets great satisfaction out of helping other writers around the world realize their dreams.
Bobbie is the author of Write In Style published by Union Square Publishing, New York, New York. She has also written a number of other books, articles, essays, and business publications.
Topic: Write In Style, and You Write to Win!
This seminar is based on Write In Style, Bobbie Christmas's triple-award-winning book on creative writing. Publishers say they seek fresh voices, but what is a fresh voice? This seminar shows you how to find your fresh voice and power up your prose, whether writing fiction or nonfiction. You'll learn all this and more:
The value and ease of setting goals that ensure you win at writing.
What constitutes a fresh voice?
How to find your fresh voice.
How to save time and be objective during revisions by using Bobbie Christmas's Find and Refine Method™
The secret of style versus style, the two ways the term is applied and how to make both ways work in your favor.
The difference between Chicago style and academic style, the style of writing you probably learned in school.
Copious things to find and revise using the Find and Refine Method™ to make your writing fresh, unique, stylish, and persuasive.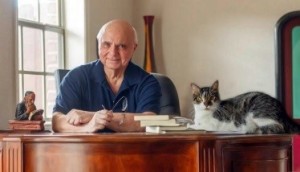 Donald Michael Platt
April 16th, 2016
Topic: How and why I began to write
Donald Michael Platt is the author of five published novels, one book he ghosted, and two books he co-authored. Donald attended graduate school at San Jose State where he won a batch of literary awards in the annual SENATOR PHELAN LITERARY CONTEST in 1959.
He sold to the TV series, MR. NOVAK, ghosted YOUR HAIR AND YOUR DIET for health food guru, Mr Platt has authored; A GATHERING OF VULTURES, VITAMIN ENRICHED, THE COUPLE'S DISEASE, ROCAMORA. HOUSE OF ROCAMORA, CLOSE TO THE SUN, and BODO THE APOSTATE, to name a few. Mr Platt has a new novel, THE SORCERESS AND THE SKULL, a Historical Fantasy, soon to be published.
How and why I began to write followed by the serendipities preceding my sales in Hollywood, mistakes I made there, Hollywood and Literary agents, how each of my books was published, their awards, why some were rejected by the Big Houses, pluses and minuses of Indie publishing, and how I select topics, research, and write my Historical novels. Plus anecdotes about my time in Hollywood and showbiz and how they affected my sales or lack thereof.

The Impact of Fame
Topic: What impacts your writing when you begin to think you're a celebrity.
Watching real celebrities in action and how that affected my writing.
I got to Oprah because of my book, GETTING UNSTUCK. How Oprah used me and the book in that session about stuck people. I got to Donahue because of a Workshop at Omega my Son and I had taught on: "Fathers and Sons. What makes closeness between Fathers and Sons, and what makes distance?" Why Donahue thought that was worthy of a National Audience. Participants will walk away with some useful "Things I learned about myself " from this entertaining and challenging morning.   Who could ask for anything more?   Not me.
Sidney B. Simon is internationally known for his pioneering work in Values Clarification. He retired as Professor Emeritus from the University of Massachusetts in 1998. Over 100 articles and some 13 books authored or co-authored came out of that adventurous academic life.
He was a much in demand keynote speaker at major conferences on Psychology, Counseling, Education, Alcohol and Drug Addiction, Self Esteem, and Family Values all over the United States, Canada, and six countries in Europe.
Simon was a guest expert on the Oprah show, and also shared his wisdom on a Phil Donahue program about Fathers and Sons in the same year he was a keynoter at the Betty Ford Clinic.
More recently, Dr. Simon has been active in the Florida literary arts community. Simon is a frequently published poet, a drama critic for the SANIBEL CAPTIVA ISLANDER, a participant for the past nine years in ART POEMS, and he is the Chair and MC of STORIES FOR GROWNUPS at the Sanibel Library
In, 2011 he won the Lee County Literary Artist of the Year Award.
Deep down, he just wants to be nominated for the Grampa of the year award.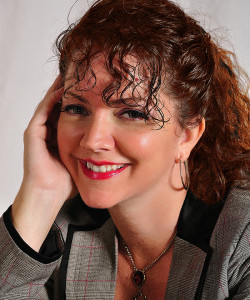 January 16th, 2016
Jennifer FitzGerald

WordPress for Authors:
Author, Book Designer & Publisher, Jennifer FitzGerald, has worked with hundreds of authors for a decade now. Originally she was only designing book covers, although now has come all the way to owning her own micro-press publishing company.  You can see her speaking to groups across the state, and now she will be here with us to answer your burning questions.
Our very own Webmaster will be showing us an overview tutorial on the workings of WordPress for authors, and more importantly, how to write for the internet.
Jennifer FitzGerald has three college degrees. Her last was in Web design and development. As a book designer and publisher, she now helps authors with both design and marketing of their publications.
This will tie in especially well if you are planning to attend our February Social Media workshop.
.
September 19, 2015: Improvisation for Writing
Jodi Cohen,
Jodi Cohen has been performing and teaching improvisation since the late 1980s. She's written and performed several original one-woman shows, directed improv troupes, written short non-fiction pieces, and also writes terrific thank you notes. Jodi has worked as a keynote speaker and presenter using improvisation as a platform to teach communication skills. She is delighted to be a new Fort Myers resident, and is excited to join the Gulf Coast Writers Association.
Subject / Topic: Improvisation for Writing
Improv allows us to 'write' on the spot, automatically, without editing. In this hands-on workshop we'll apply some basic improv principles via short writing exercises to explore character development, story plot, and idea generation. We'll also experiment with how to use "writer's block/feeling stuck" as a launch point for our writing practice.
Download an overview of her presentation Click HERE.
October 17, 2015
Robert S. McCarthy Critique Groups organizer at GCWA
On October 17, our meeting's focus is on critique groups, how to form and operate one – and guests and non-members can bring their work and participate for free! Two hours of rubbing elbows with other writers plus having your work read and reviewed. That's a deal. By meeting's end, you'll have fellowship and some really constructive feedback about your work.
Since 1979, Bob has been a professional writer, editor and producer in both freelance and corporate positions. He has written video scripts for marketing and training, collateral materials. Bob published an e-book on social media in February 2014 – Collaborative Blogging: A Team Approach to Social Media in 6 Easy Steps. He writes non-fiction books,  video scripts, magazine articles and content for web sites and social media. Web Site: www.theb2bwriter.com
Handouts for 2015 workshops: Workshop Exercises Download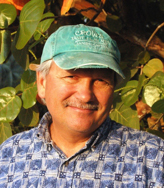 November 21th, 2015
Charles Sobczak
Topic: Writing about Nature
Charles Sobczak lives and writes on Sanibel Island, Florida.  His first novel, Six Mornings on Sanibel, was originally published in 1999 and is currently in its seventh printing. In 2010 he published a nature guide titled, Living Sanibel – A Nature Guide to Sanibel & Captiva Islands. The book quickly became the best-selling book on Sanibel and rose to #34 nationally on Amazon.com for nature guides during the winter of 2011.
His latest nature guide, The Living Gulf Coast – A Nature Guide to Southwest Florida, won the Gold Medal Presidents Award for the best work of Adult non-fiction, 2011, by the Florida Publisher's Association. The book was featured in an April, 2014 broadcast on Book TV's Cities Tour when they filmed the best nature places to visit in Ft. Myers, Florida.
Sobczak has been a featured lecturer for the past decade with Road Scholars (formerly Elderhostel) based out of Boston, Massachusetts. He is only one of two authors in the county whose books (both from the Living series) are used as companion guides to their local programs, in this case Sanibel Island and Naples, Florida.

May 2015: Mini-Workshop (led by Denise Holbrook)
Topic: Point of View
What exactly is Point of View? What are the common types? What are their advantages and disadvantages? What does it mean to write in my character's voice?
We'll answer these questions as simply as possible and then give members a chance to practice writing short passages from specific points of view, in a specific voice.
If you're not sure what all that means, this meeting is definitely for you! Bring your notebook, laptop, or whatever writing instruments you'll need to join the fun. You may not be an expert at POV and voice when you leave, but you should at least know how to decide which to use for your project and protagonist.
POINT OF VIEW PRESENTATION NOTES

June 2015
Rik Feeney
Topic: Digital Books: Don't get left behind!
Rik Feeney is the author of several books including Writing Books for Fun, Fame & Fortune!, his latest book Editing Basics for Authors and Indie-Publishers!, the soon to be released Kindle Publishing Success Guide & Workbook, as well as the upcoming memoir "What Are Little Boys Made of…?" Rik is a Book Coach, Book Cover Designer, and Publishing Consultant. Rik's passion is helping authors effectively and successfully publish their books.
Digital books are the wave of the future. Even if you publish traditionally, the additional markets available through digital books is enormous.
Email Rik at usabookcoach@gmail.com
Visit his website at www.PublishingSuccessOnline.com.
July 2015
The importance of description in writing.
Jeremy Pilarski is an English Professor at Florida SouthWestern State College (Edison State College)
Mr. Pilarski received a Master of Arts (M.A.) in English from Florida Gulf Coast University. He has written papers on topics from social media to ancient philosophy. He published articles for the Florida Gulf Coast student newspaper (The Eagle). He graduated Phi-Theta Kappa, is a member and a participant in the Honors Scholar at Edison State College and received the Rose Kosche Scholarship for poetry and short fiction.
Participants will learn:
The difference between showing and telling
How to build a descriptive scene
How to write effective dialogue.

January 2015 Speaker: Kim Weitkamp
Kim Weitkamp is a nationally known storyteller and a gifted workshop leader who has performed her own personal stories at festivals throughout the country and at the National Storytelling Festival in Jonesborough, TN. Kim travels full time performing at festivals and theaters around the continent. She is repeatedly booked back and is a favorite with audiences and event/festival directors. Her material is geared toward adults but safe for kids. Kim's single CD, "The Lap," has won a 2014 Storytelling World Award, and she is the proud recipient of the Toastmasters Communication and Leadership Award, an honor given once a year to a former member who has gone on to achieve great success in leadership and communication. She has seven award winning albums filled with songs and stories. Kim presents and leads workshops internationally. For more information, visit her website at www.kimweitkamp.com.
Topic: How to Write and Tell Personal Stories
Using her Memory Map and 'StoryBox' techniques, nationally acclaimed storyteller, Kim Weitkamp, will show you a fun easy way to pull numerous story ideas right out of your own personal life experiences and turn any one of them into a well-rounded tale. Participants will leave this workshop with one new piece that will contain all the bones of a good story. Whether a story lover, a family storyteller, a performing teller, a writer or a public speaker – this workshop will help the participant build his or her repertoire, enhance any presentation and transform life experiences into spellbinding narratives.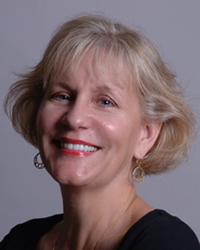 February 2015 Speaker: Marty Ambrose
Marty Ambrose has worked at Edison (now Florida Southwestern) State College for more than two decades as a professor of English and Communications. She teaches an online creative writing course and is currently working on her fifth book. Ambrose is the author of the Mango Bay Mystery Series for Avalon Books. The series features amateur sleuth Mallie Monroe and is set on a fictional island in Southwest Florida, like the one where Professor Ambrose lives.
Topic: The Politics of Publishing
April 2015 Poetry Month Speakers: Jim Gustafson and Larry Stiles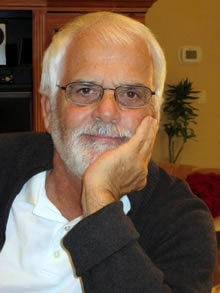 Jim Gustafson's resume lists everything from a United Methodist Pastor to a bartender, with a generous sprinkling of occupations from golf pro, radio station manager, and Hospice Director to a Vice President for CBS. He currently resides in Fort Myers, Florida, where he reads, writes, pulls weeds, and teaches classes on "How to Choose and Keep a Job for Life." His book of poetry, Driving Home, was released in January, 2013.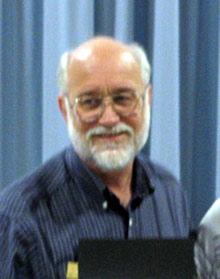 Larry Stiles is a native of both ends of Tennessee. Retired following a long career in higher education administration, he now spends his time in volunteer activities in SW Florida and tries to squeeze in a little time for writing. Larry has been awarded by this group for his outstanding poetry, and his work has been selected multiple times to be featured in the ArtPoems multimedia event.
 Topic: Revision
Revision is one of the exquisite pleasures of writing. ~Bernard Malamud
National Poetry month is a celebration of poetry. Our celebration will salute the work the muse leaves behind: revision. Revision can make the good great and the great greater.
It is rare a piece of writing, be it poetry or prose, that is finished in the first draft. Using poetry for illustration, we will look at specific strategies for revision that are applicable to all genres.  Bring your pencil, bring your paper, bring your friends.